Group costumes make Halloween a little bit more special. Get a group of friends, or mom, dad and the kids together and dress up as a cast of well-known characters from Candy Land. Many of us have special memories of King Kandy, Queen Frostine and Mr. Mint from playing Candy Land as children. This costumed clan is sure to bring a smile to the holiday celebration. There are Candy Land costume ideas appropriate for both sexes and young and old alike.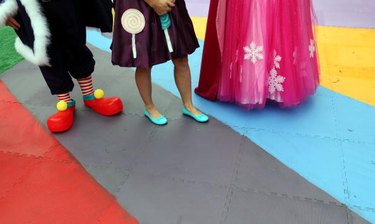 Things You'll Need
Red Felt

Red Electrical Tape

Black Eyeliner

Red Shoes

Blue Makeup

Gold Fabric

Red And Pink Makeup

Red Or Pink Suspenders

Frosted Lipstick

Cape

Cardboard Cupcake

Gumdrops

Long Dowel

King'S Crown

Blue Gown

18-Inch Dowel

Pink Socks

White Mustache

White Long-Sleeved T-Shirt

Craft Store Candy Cane

Blue Wig

Red Pom Pom

Craft Snowflake

Extruded Polystyrene Foam Circles

White Tights

Red Ribbon

Tiara

Blue Trim

Pink Wig

Elastic

Pink Shorts

White Baseball Cap

Pink T-Shirt

Red And White Striped Tights

White Batting/Felt
King Kandy
Step 1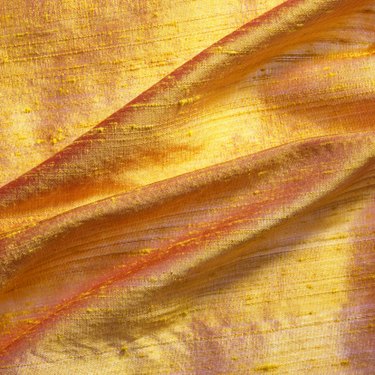 Sew a gold skirt with a simple elastic waist. Cut a scalloped edge on the bottom and glue red felt circles around the hem.
Step 2
Buy red and white tights or wear white tights and wrap red ribbon diagonally around the legs. Attach the ribbon intermittently with glue or a stitch so the ribbon doesn't fall down.
Step 3
Use extruded polystyrene foam circles wrapped diagonally in red ribbon around the neck and shoulders. Piece one together at the neck. Wrap a long dowel in red ribbon to carry as a scepter. Fashion a colorful cupcake out of cardboard or extruded polystyrene foam to put on the top.
Step 4
Buy a gold crown at a costume shop. Trim it with gumdrops or red candy. Add a white mustache and a cape for the finishing touches.
Queen Frostine
Step 1
Search a thrift store or a costume shop for a floor-length light blue gown.
Step 2
Add white batting at the neckline and hem to look like snow. Or you can cut scallop-edged trim out of white felt.
Step 3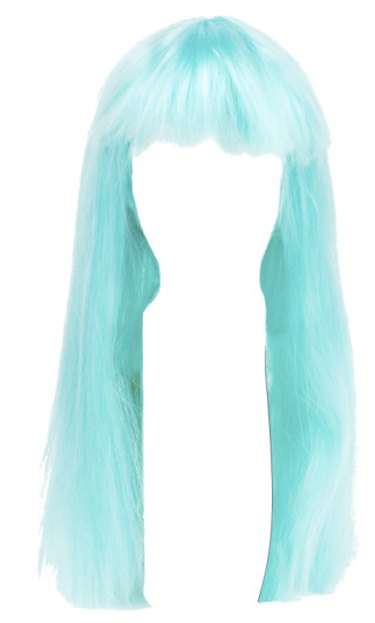 Purchase a long blue wig at a costume shop.
Step 4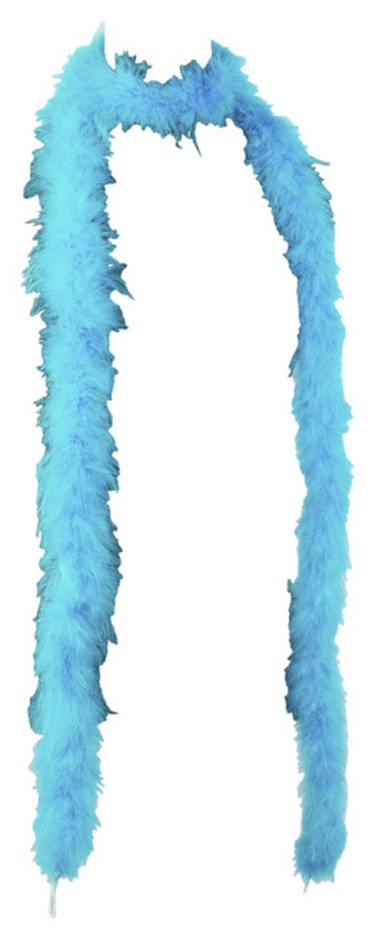 Purchase an inexpensive tiara at a craft store or inexpensive jewelry shop. Line the base with a blue boa or blue fuzzy trim.
Step 5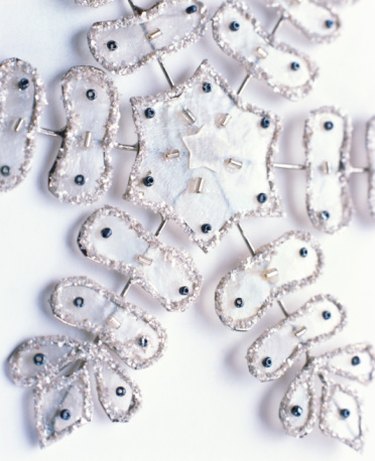 Paint an 18-inch dowel blue to create a scepter. Add a large white snowflake at the top. Christmas decorations are already out in the craft stores, so this should be easy to find.
Step 6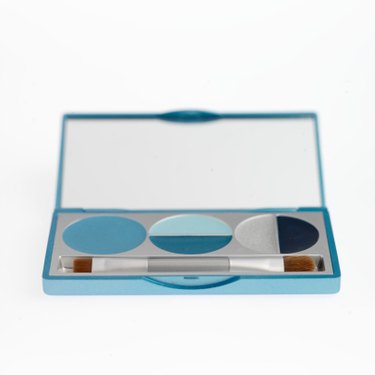 Apply blue eye makeup, facial glitter and sparkles. Add frosted white lipstick.
Mr. Mint
Step 1
Wrap red ribbon diagonally around the legs of a pair of white tights and the sleeves of a white long-sleeved T-shirt to make them look like candy canes.
Step 2
Wear a pink T-shirt and pink shorts over the tights and the white T-shirt. Add a pair of red or pink suspenders.
Step 3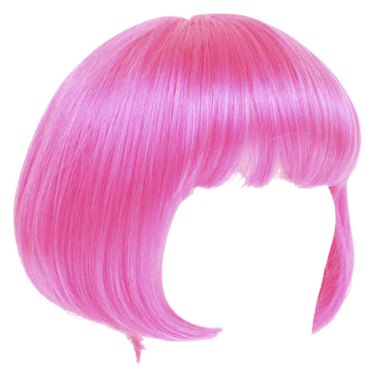 Add red electrical tape or ribbon to a white baseball cap to make it look like peppermint candy. Glue a red pom pom on the top. Wear a pink wig under the hat.
Step 4
Purchase a tall candy cane at a crafts store, or make one out of extruded polystyrene foam and red ribbon.
Step 5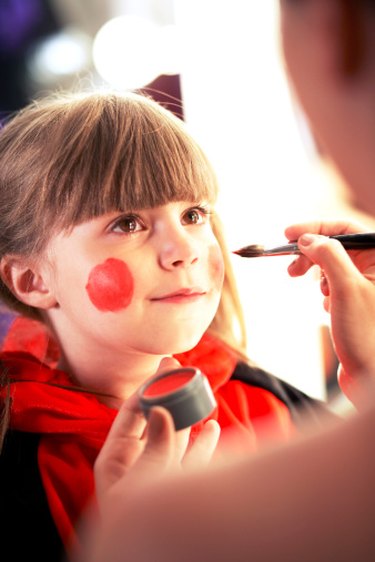 Apply red circles on your cheeks and draw a line with black eyeliner from the circles to the sides of your mouth. Draw a pink circle on your nose.
Step 6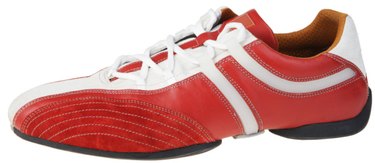 Complete the look with red tennis shoes and pink socks.