Things You'll Need
Yellow foam

Scissors

Craft glue or hot glue

10 clothespins

Cardboard

Brown spray paint

18-inch strip of self-adhesive Velcro

Brown shirt and pants or tights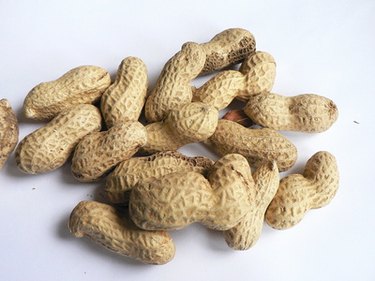 Most Halloween costumes are based on popular characters from recent movies. If you do not want yourself or your child to have a costume that everyone else will have, choose to make a costume at home. One simple costume that is easy to make is a peanut costume. No sewing skills are needed to create this one-of-a-kind costume that is sure to be a hit with adults and children alike. This project will take about an hour to make if you use hot glue and about one day if you use traditional craft glue.
Step 1
Cut a rectangle of foam long enough to fit from the top of your head to your knees. Add an extra inch of foam so you can glue the edges together. Make the rectangle wide enough to fit all the way around the body as well.
Step 2
Cut a hole using scissors near the top of the foam for your face. Make the hole large enough so that your forehead and chin show through it. Cut two holes in the sides of the rectangle for your arms to fit through.
Step 3
Glue the two long sides of the costume together. Hold the costume edges together with 10 clothespins as the glue dries. Leave a 24-inch gap unglued between the neck and the back of the costume, opposite from the face hole, so that the costume can be put on later. Allow the glue to dry for one hour. If you use a slower drying glue, allow it to dry for two hours.
Step 4
Cut a small rectangle from cardboard. Place the cardboard on the foam and spray around the edges of the cardboard to create the peanut pattern. Keep the cardboard held the same direction each time to make a uniform pattern. Cover the entire costume in this pattern working from the top down. Allow the paint to dry for one or two hours.
Step 5
Place glue around the top edges of the costume. Hold the glue in place with five clothespins. Allow the glue to dry for one hour. Use hot glue if you do not have time to wait for the glue to dry. This closes the top of the costume over the head and helps give it a more realistic shape.
Step 6
Remove the tape covering the adhesive strip on both sides of the Velcro strip. Add the Velcro to both sides of the back of the costume to keep the opening closed while you are wearing the costume. Wear a brown shirt and pants or tights under it.