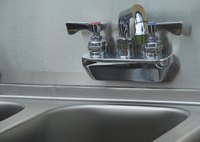 Scratches can form on stainless steel sinks from silverware thrown into the sink or dishware moved across its surface. Slight scratches do not dig deep into the surface of the stainless steel and require only scrubbing to remove. Deeper scratches require products that work the imperfection from the surface of the stainless steel without damaging the sink.
Things You'll Need
600-grit wet sandpaper
1/2 cup baking soda
Wet the stainless steel sink with warm water.
Moisten a 600-grit wet sandpaper.
Rub the sandpaper gently back and forth over the scratches in the sink. Work the sandpaper in the direction of the grain of the stainless steel, not against it.
Examine the scratch after two to three passes with the sandpaper. If the scratch remains, continue rubbing with the sandpaper until removed.
Sprinkle 1/2 cup baking soda over the sink or enough to cover the bottom and sides of the sink.
Scrub the sink and drain holes with the baking soda and a wet dish rag. Rinse the sink after scrubbing, and wipe it dry with a dish towel.