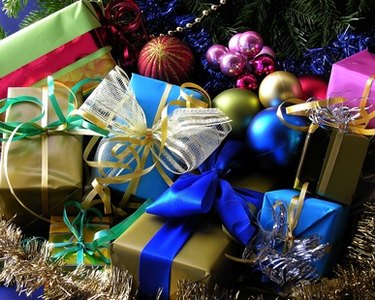 A Christmas newsletter is a wonderful, thoughtful way to update family and friends about the important things that took place in your life during the year. If you've never put one together, you can find Christmas family newsletter examples online. These updates can also be good for business and may boost sales. Whether such a letter is for personal or business use, Christmas newsletter articles should focus on positivity, spreading good cheer and wishing everyone a happy holiday season.
A family Christmas newsletter should not be too long; otherwise, it will not hold your readers' attention. Before you start writing or typing, think about who will be reading the newsletter, your purpose and if you want to print the letters or email them. While online newsletters are less expensive (and more environmentally friendly), they cannot be held and touched. In addition, recipients are not as likely to save them. You can copy handwritten newsletters and add personal touches like stickers, or slip in printed photographs.
You will probably want to include your and your children's names, ages and any significant accomplishments from the year. Many people add information about their pets, as well. You can write about anything that stands out for you. The news does not all have to be about achievements or celebrations.. It is also important to include details about the less happy information, like a family member's illness. Your loved ones will also want to know about that. Avoid going into detail about any topic, and do not brag; if recipients want to know more, they can reach out.
The last paragraph should end on a positive note toward the recipients. Use this closing to wish them a happy holiday season and best wishes for the coming year. You can end it with phrases like "With Love From Our Family to Yours," "Merry Christmas and Happy New Year" or "Happy, Happy Holidays." Or, keep it simple with "Love" and then sign your names. Christmas card closings can use the same kind of wording.
Looking for inspiration for your family Christmas newsletter? Some websites offer photos and free downloadable guides that you can use. To get started on your newsletter, try making a list of all the notable events of the past year and adding a few sentences to describe each item. If there are a lot of things you want to mention, you can group them into sections and make headlines, like "Our Summer Weekend Trips."
Newsletters can be designed in a variety of ways; one of the most common is the newspaper format. You can also do a brochure or flyer style. Be sure to include some colorful pictures, as well as some graphics. It's nice to include drawings that your children have made; grandparents in particular love this. If you are not artistic and need more help, many websites offer free templates.
Companies often use newsletters as part of their holiday marketing strategies, but recipients probably aren't all that interested in business achievements like meeting an annual sales goal. Instead, they want to read about discounts and offers.
These promotions should be the main focus of the newsletter. Think about offering discounted bundles, highlighting complementary products in the same space and, of course, free shipping.