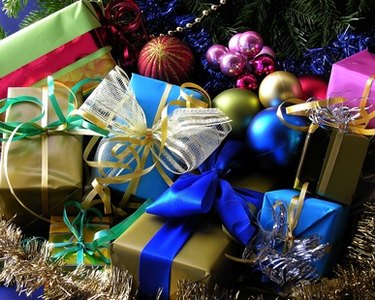 Christmas newsletters are an informative method of connecting with friends and family that you might not see very often. A Christmas newsletter is more personal than a card and doesn't take much more effort. In your newsletter, include information about things that happened in the previous year, add in pictures of your family and talk about big plans for the coming year. Writing the newsletter isn't difficult, as there are usually a lot of things to talk about. The hard part is how to close the letter.
Step 1
End the letter with positive words for the newsletters' recipient. Wish your friends and family a great holiday and good times to come.
Step 2
Conclude with "Love," "Best Holiday Wishes," "Merry Christmas" or a similar closing.
Step 3
Sign your name below the closing and have all the members of your household sign. You can even draw a paw print for the family cat or dog.
Step 4
Include a postscript by writing "P.S." below your signatures and mention something funny or use the space to invite people to call, write back or come for a visit.
Tip
If you're sending the newsletter to people of various faiths, it's always safe to say "Have a happy holiday season" rather than "Merry Christmas."