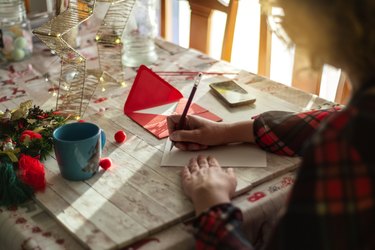 When writing business Christmas cards, people wonder about what they should write. The tone can be formal, friendly or funny, and what you write to friends may or may not be appropriate in the workplace. Are you wondering what to write on Christmas cards for colleagues and business associates? Composing a company Christmas greeting to customers and colleagues can be easy if you follow a few pointers.
Ideas for Christmas Cards for Colleagues
Large companies purchase bulk Christmas cards for businesses with whom they work and for clients, but these are not what you should use for co-workers. Instead, you can buy a pack of holiday cards and write individual messages for each co-worker. This strategy is more cost effective than buying several individual cards.
If you are not sure about giving cards at all, keep in mind that you might be spending a great deal of time interacting with your co-workers whether you are in an office or working remotely. It is thoughtful to express your appreciation and gratitude during this time of year.
Which Cards to Buy for Co-workers
When buying holiday cards, you can stick with traditional Christmas designs or find ones with winter scenes that are not quite as religious or are not only for Christmas. Doing this can be more inclusive for your co-workers. You can also buy a few different boxes or cards with various themes.
If you have a lot of cards to distribute, you can order bulk cards with pre-printed greetings to save some time. Otherwise, writing them by hand is a nice, personal touch. Find a holiday message to include at the bottom of your card that speaks to you and write the same thing to each colleague to save time. You can also choose to personalize your message if you feel so inclined.
Christmas Cards for Business Associates
Christmas cards for business associates or clients are generally a bit more formal than cards that colleagues give to one another. Sending cards to your business associates every holiday season spreads goodwill and reminds associates and clients that they are important. In essence, business holiday cards do double duty as good deeds and marketing tools to reinforce your brand and image.
Corporate Christmas cards generally fall into three categories: funny, thoughtful or dignified. Your cards should be in line with your business and brand. If your place of business is a Christian college, your cards might be more spiritual. A design agency might call for something more creative, and a law firm might stick to traditional themes.
Business cards are generally sold with lines of personalization for purchasers to add on the inside. There might be up to four lines, and you can choose the size and font. They usually have either standard verses from which to choose or allow you to customize them. You can add your company logo and pen a few words if you like. A common company Christmas greeting to customers might read something like, "With much appreciation during the holidays, we thank you for your business."