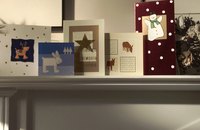 The holiday tradition of sending Christmas cards to all of our acquaintances has been around for a long time and isn't going to stop anytime soon. Sending Christmas cards to your business colleagues, partners, customers and clients lets them know that you appreciate working with them and doing business with them. It also serves as a friendly reminder that your services are still available to them as they enter a new year of business. However, sending a card with the wrong professional etiquette could end up offending your customers, which could result in a loss of business.
Choose a card with a simple, winter holiday image on the front. Avoid buying cards with a Christmas-specific image if you are unaware of the recipients' religious views.
Type a simple, friendly holiday wish on the inside of the card. Try something like "Wishing you and yours a happy holiday season," or "Warmest wishes throughout these winter holidays." Don't write "Merry Christmas" unless you know for a fact that the recipients celebrate Christmas.
Put in a short, handwritten note underneath the printed greeting on the inside of the greeting card. Personalize the message to the recipient. Write something like "Hi, Jon. I've enjoyed doing business with you this year, and I hope we'll be able to continue helping each other into the new year. I hope you have a great holiday season." You can write "Merry Christmas" in your handwritten note if you know the recipient celebrates Christmas and you have a generic holiday card.
Sign your first and last name at the bottom of the card. Use legible handwriting, and use a pen that writes smoothly.