Things You'll Need
Sketch pad

B and H pencils

Colored pencils

Markers

Watercolor pens (optional)

Pre-made duster coat pattern (optional)

Pattern paper

Drafting pencils

Dark marker

Felt-tip pen (optional)

Straight pins

Fabric scissors

Sample fabric (3 to 4 yards: optional)

Outer shell fabric (3 to 4 yards)

Lining shell fabric (3 to 4 yards)

Tailor's chalk

Sewing machine

Dress form

Iron

Button-hole attachment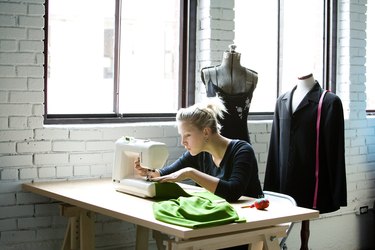 The duster coat generally finishes several inches below the knee and has a crisp topstitch finish. The women's duster coat silhouette varies from a straight boxy cut influenced by menswear to an a-line shape with a cinched waist and full sweep. Although lapels, pockets and self-fabric belts are staples of the garment, other versions such as the Aussie duster include a spread collar and shoulder cape, referred to as a capelet and the '50s-inspired swing has a fuller sweep.
Duster Coat Design and Pattern
Step 1
Sketch your duster coat in your sketch pad using a B pencil for the silhouette contour and an H pencil for defining seams as well as stitching placement details. Draw in topstitch or double needle top stitch placement at the lapels, welt pockets, front placket, sleeve cuff and bottom hem and include any decorative stitch width spacing like a double needle stitch with a 1-inch spacing.
Make sure your sketch also includes your chosen length as well as the sweep.
Step 2
Color in your sketch with colored pencils. Define fabric texture with markers or watercolor pens. Fabrics such as brushed twill, canvas, leather, suede, pinwale corduroy and denim are used for the outer shell. Color in pattern lining details as well. For instance, lining used for contrast piping around the welt pockets, sleeve cuffs, lapels as well as the front placket edge or as the facing of the self-fabric belt must be colored into the sketch for pattern-making.
Step 3
Trace the outline of a pre-made duster coat pattern onto pattern paper. This step is optional if you have pattern-making knowledge. Although making your own pattern is possible, using a pre-made pattern as a base will most likely ensure a proper fitting garment. The dusters are meant to be worn over garments. The sleeve and chest must include extra room, which makes the patterns significantly larger than a blouse pattern.
Step 4
Draft your duster coat pattern on pattern paper using drafting pencils according to your design. Your pattern parts will consist of a sleeve, right and left duster panels, right and left front panel facing, right and left lapel, a back duster panel, pockets and belt as well as the inner lining pattern parts.
Step 5
Mark your patterns to designate your cutting and sewing instructions with a dark marker or felt-tip pen. Markings such as notches, which indicate fabric alignment during construction, 1/2-inch seam allowance as well as button-hole spacing, are relevant cutting and stitching guidelines. Mark the outer shell and inner lining patterns separately.
Step 6
Pin your pattern parts to your sample fabric with your straight pins and cut out with your fabric scissors. Cut your outer shell and inner lining separately.
Although cutting sample fabric is optional, designers make a sample garment out of muslin cloth, referred to as a sloper, to ensure fit prior to cutting the project material. You can opt to cut your shell and lining fabric material and avoid making the sloper, depending on your pattern-making and sewing skills.
Step 7
Pin your right and left front duster panels to the right and left front duster facing panels. Make sure the parts are aligned according to the notch placement. Mark your button-hole and button placement with tailor's chalk. Mark your pocket placement as well.
Making Your Duster Coat
Step 1
Pin the pockets to the front duster coat panel on the right side of the outer shell fabric.
Step 2
Turn the fabric to the wrong side. Pin the sleeves, front and back coat panels, facing and lapels making sure the notches are aligned.
Pinning on the wrong side of the fabric will ensure that the raw seams are on the inside of the garment.
Step 3
Repeat Step 2 for the lining. Make sure that you pin the wrong side of the lining fabric as well.
Step 4
Machine stitch your pockets onto your right and left front panels. Stitch the outer shell and lining separately.
Step 5
Turn the stitched outer shell inside out. Do not reverse the lining and insert it into the outer shell.
Step 6
Try the duster coat on your dress form prior to stitching the two shells together. Make sure the pockets as well as button placement are spaced properly.
Step 7
Turn the outer shell and lining shell inside out and pin together. The wrong side of the fabric will be facing out. Machine stitch the two shells together leaving the bottom hem open.
Step 8
Turn the duster coat inside out again. The right sides of the fabric will be facing out. Insert the lining sleeve into the outer shell sleeve.
Step 9
Press your duster coat with an iron on your fabric's required setting. Make sure the edges are crisp. This will ensure a smooth topstitch onto the lapels, sleeve cuff, front panels, belt as well as sweep.
Step 10
Try your duster coat on your dress form again and pin the outer shell and lining hem. Carefully try on your garment and make sure you are satisfied with the hem length.
Step 11
Topstitch the duster coat as well as the bottom hem. If your design includes a belt, you will need to topstitch it as well.
Step 12
Change your machine's straight foot attachment to the button-hole attachment. Stitch your button-holes and slit the hole's center with your scissors to complete your duster coat.
Warning
Make sure to not cut into the button-hole to prevent unraveling.