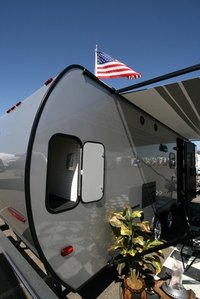 A travel trailer is like a temporary home on wheels. Though designed for camping, you can use trailers anywhere you need shelter and don't wish to tent camp. Travel trailers are used by hunters in deer camp as well as travelers to exhibitions such as horse shows or motor cross. You can find an inexpensive used travel trailer, but they often need work. One of the most common repairs required is replacement of rotten flooring.
Things You'll Need
Crow bar
Hammer
Nails
3/4-inch plywood sheeting, 4-by-8 feet, 4 sheets
Fiberglass insulation, 1 1/2-by-15 inches-by-25 feet, 3 rolls
2-by-4-foot boards, 24 feet long, 4
Carpenter's pencil
Measuring tape
Jig saw
Put on protective clothing including long sleeves, long pants, close-toed shoes, gloves, safety goggles and breathing protection. You will be handling insulation during this project. Many types of insulation such as fiberglass or cellulose can irritate your skin, eyes and lungs.
Pull up the tile laminate floor covering using a claw hammer and crow bar. To remove a piece of laminate floor covering, slide the tip of your hammer's claw or crow bar between the tile and the floor and pry up the tile. Remove the laminate floor covering from your trailer.
Pull each nail from the plywood flooring beneath the laminate floor to detach the floor from the sub floor beneath it. Count each nail that you pull up. Carry the wooden planks away from your trailer.
Remove the insulation from the trailer by hand. The insulation sits on top of the plywood sub-floor, and will be easy to remove.
Examine the sub floor and wooden structural 2-by-4 boards, or joists. If these are not rotten you can leave them in place. If they are rotten, you must pull the nails that hold them to the frame of the trailer and remove them.
Using the rotten wood as a pattern, trace the proper board shape onto new 3/4-inch plywood replacement wood and 2-by-4 floor joists. Note the position of nail holes by drawing an "X" over the nail position in your new wood boards. Cut the boards into the proper shape using a jig saw.
Lay the plywood sub-flooring material over the frame and nail the boards into place. Position the replacement floor joists in the proper location and nail them into place.
Place new insulation into the spaces between the floor joists over the plywood sub flooring.
Cover the insulation with 3/4-inch plywood boards for the flooring. Nail the flooring in place.
Place peel-and-stick laminate tiles over the plywood flooring.