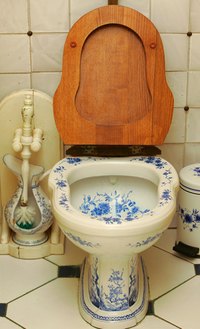 An unsanitary toilet is unsightly to guests and may become the cause of their decision to use the toilet at your local fast food restaurant instead of the toilet in your home. Making an effort to clean your toilet of its ominous looking brown toilet ring may bring you back into your friends' good graces and also give your toilet the freshly cleaned look it deserves.
Things You'll Need
Bleach
Toilet pumice stone
Pour a cup of bleach into the toilet to allow the residue of the stain to loosen. Allow the bleach to sit for about one hour. Be sure to close the lid of the toilet to keep any fumes from exiting the bathroom.
Lift the lid of the toilet and flush away the bleach. The bleach should have lightened the toilet ring somewhat.
Purchase a pumice stone with a handle from your grocery or thrift store. Put on a pair of cleaning gloves and roll up the sleeves of your shirt to keep the toilet water from splashing on your clothing.
Scrub the toilet ring with the pumice stone in up and down motions. Check that the toilet ring is clearing away before proceeding on to the next area of the ring. It should take 10 minutes or less, depending on how hard you scrub, to clear the toilet stain, since the stone surface of the pumice will scrape the brown stain away gradually.