Things You'll Need
Paint

Paint rollers or brushes

Curtains

Curtain rods

Mirror

Wall hanging supplies

Furniture

Rug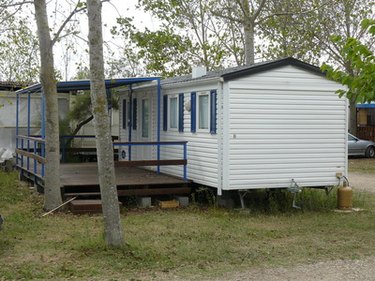 Trailers, also known as mobile homes, often have small living rooms that can easily feel dark and cluttered. The living room may only be 10 to 14 feet wide, which poses a challenge when arranging furniture and decorative pieces. The paneled walls of the trailer can be dark in color, which affects how bright a trailer living room can seem. When decorating a trailer's living room, you should pay attention to opening up the space and working with color.
Step 1
Paint the walls and ceiling in a light color with a glossy finish. Painting the walls makes the room feel larger by reflecting more of the light that enters the room.
Step 2
Purchase sheer curtains for the windows. Many trailers, especially single-wide trailers, have windows on two sides of the living room, or even three sides if it is situated on one of the ends. Take advantage of the light by leaving the blinds open and installing sheer curtains for privacy. The curtains should be a light color that matches your desired color scheme.
Step 3
Hang a large mirror on an empty wall. Mirrors create the appearance of more space and help reflect light. When hanging heavy items such as mirrors in a trailer, be sure to find a stud in the wall or affix the mirror in multiple places to distribute its weight.
Step 4
Install trim along the top of the walls to add architectural detail to your trailer's living room. Strips of dark wood work well, although you can also choose to paint the trim in an accent color if desired.
Step 5
Choose sofas and chairs upholstered in solid colors because prints can make a trailer's living room feel too busy and small. Bookcases, coffee tables and end tables with an open feel instead of a heavy feel also give the illusion of more space.
Step 6
Arrange furniture with the flow of traffic in mind. If the living room is located in the center of the trailer, people will walk through it to get from one end of the trailer to the other. Try to leave a walkway that does not go right through the middle of the conversation grouping of the furniture.
Step 7
Purchase a large rug for the center of the living room. Not only does the rug hide the most likely ugly carpet that came pre-installed in the trailer, but it also gives you a chance to bring color and elegance into the room.