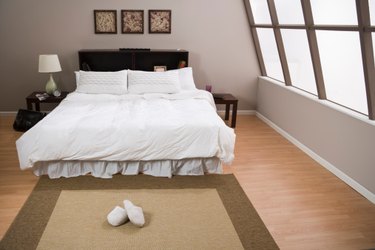 Placing an area rug in a room can complete your décor and add color to the floor. How you lay an area rug in a room can make a room look well decorated or mismatched. As you decorate each room, lay the rug so that it shows the design and blends well with the furniture.
Step 1
Lay area rugs in your bedroom at the foot and sides of the bed. For large bedrooms, set rugs between pieces of furniture to cover empty floor space. For example, lay a rug between the bed and dresser, in front of your closet or wardrobe, or add a chair to an empty corner and place a rug in front of it.
Step 2
Place dining room area rugs centered directly under your dining table. Use a rug large enough to cover the floor space below your chairs even when they are pulled out from the table. A properly sized rug can prevent chairs from scraping and damaging the floor.
Step 3
Place area rugs in family rooms and play areas to cover all open floor space. Avoid anchoring rugs with bookshelves and toy boxes. This allows you to roll up and remove area rugs for play activities and cleaning.
Step 4
Lay area rugs in small living rooms, so that they cover the space between the furniture. Leave approximately six inches to slip under the front legs of each piece of furniture. This can make the room look full and appropriately decorated.
Step 5
Position oversized rugs, so that they extend behind sofas and chairs in large living rooms. Use rugs big enough to slide under couches and chairs and extend beyond the back legs by at least six inches. Pull your furniture in close, so that the rug completely fills the space.
Tip
Buy area rugs that match existing room colors and furnishings.
Use non-skid carpet pad to keep your rug from bunching or moving under heavy foot traffic.
If your room is large enough to establish two distinct areas, such as a living room and a study, purchase a rug for each section, rather than purchasing one large rug to fit both spaces.