Things You'll Need
Tape measures

Paper

Pencil

Camera

Ruler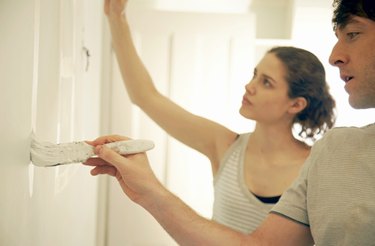 Paint provides the easiest way to transform a room, and usually one of the least expensive. By following some easy designer tips, you can totally change the feel of any space. Paint can help you warm up a cold space or enlarge an undersized room. You can give the impression of taller walls or visually bring down the height of a too-tall ceiling. And it's an easy fix if you don't like the results when you're done. Be bold, be creative and make your space your own.
Step 1
Assess the room you want to transform. Measure the length of the walls and the height of the ceiling. Note the number of windows and the direction they face. Draw a floor plan of your space.
Step 2
Lighten a small or dark room by using soft creams and pastel colors. Choose a paint sheen in a satin or semi-gloss finish to reflect the available light.
Step 3
Paint large horizontal stripes on a wall to make the room seem wider. For best results, use two shades from the same color family. Paint stripes that are at least 12 inches tall.
Step 4
Choose a darker color paint for two opposite walls to add depth to a room. Stay within the same color family.
Step 5
Balance a long, narrow room by painting the two short walls opposite each other in a darker color than the shade on a long walls.
Step 6
Striping your walls vertically will help make lower ceilings appear taller. Make the stripes at least 8 inches wide so the room won't appear too busy.
Step 7
Bathe your ceiling in a darker hue than the walls to make a room with very high ceilings seem cozier. For extremely high ceilings, bring the darker color down the walls about a foot from the ceiling.
Tip
Photograph your room during the day and at night to help assess what you'd like to change.
Warning
For best results, choose colors that are similar to each other on a paint strip. For example, use a soft cream with a hue two shades darker for techniques that require two colors.