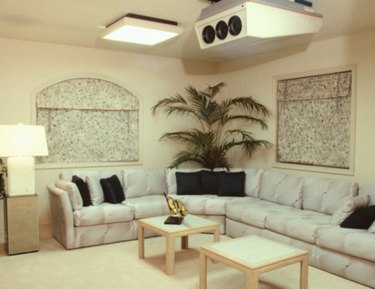 Decorate the space behind your corner sectional couch with items or images that complement the sectional and the style of the room. Items behind the sofa should look like they belong there, not like you're just trying to fill in empty space. Consider the fabric, color and lines of the sofa as well as the position of the sectional. For example, don't place a bulky silk tree behind the sofa if it's smashed between the sectional and the wall or if you have to pull the sectional out into the middle of the room to make it fit right.
Step 1
Hang matching drapes, curtains or other window treatments on the windows on both sides of the sofa if the sectional is situated against two walls with windows. This unifies the space, tying both windows and the sectional together. Use the same color or pattern on a couple of throw pillows on the sofa if it would complement the room.
Step 2
Place a large silk tree or floor lamp that fans out over the corner of the sectional if you have enough space to pull the sofa away from the walls at least a couple of feet. Placing something large in the corner behind the sofa softens the sharp corner and grounds the large sectional.
Step 3
Display artwork, collectibles, houseplants or general accessories on sofa tables or shelves placed behind the sofa if the backside is open to the room. For example, a collection of decorative vases on a shelf would help balance the room if one of the sides of the sofa is open to the room and the other looks out over a garden or atrium. Choose decorative pieces that complement the color and style of the sofa.
Step 4
If the sofa is pushed up against two walls, decorate the walls with pictures or artwork. Balance the look by using pieces from the same collection. Use matching frames or choose related photographs. Alternatively, matching shelves or wrought iron decor would also serve to balance and unify the two walls behind the corner couch.