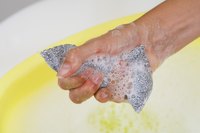 Mexican tile is a unique soft tile of the terra cotta family. It called Mexican tile because the exact composite is only made in the city of Saltillo in Mexico. Mexican tiles are beautiful when finished and provide a charming look through the room. If you have old Mexican tile floors you may need to restore them at some point, but you can do it easily with only a few items from a hardware or tile supply store.
Things You'll Need
Tile-sealer stripper
Petroleum-based tile sealer
Remove any of the old sealer that is on the tile. Start with a mild stripping agent and only use a stronger one if you can't get the sealant off. Mix equal parts vinegar and water and rub it into the tile with a soft sponge. If the sealer comes off continue to clean the entire floor like this.
Use a tile-sealer stripper if the vinegar doesn't work. You can find this type of cleaner in most hardware or tile stores.
Let the tiles dry thoroughly.
Apply a petroleum-based tile sealer according to the manufacturer's instructions. You may need to apply more than one layer, if the directions say so.