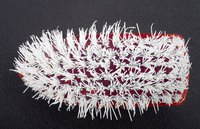 If you would like to paint outdoor statues, you will need to contend with a pair of issues. First, because concrete is not an ideal surface for paint adhesion, you must prepare the surface properly. In addition, because outdoor statues endure a significant amount of duress from varying weather, you should apply a specific type of paint that will remain durable under harsh conditions.
Things You'll Need
Water hose
Dish soap
Coarse plastic brush
Masonry primer
Two-part epoxy paint
Wooden stir stick
2-gallon painter's pot
3- to 4-inch latex paintbrush
Scrub the outdoor statue clean using dish soap and a coarse brush. Rinse the statue thoroughly using a water hose. Allow the statue to dry.
Apply a coat of masonry primer using a 3- to 4-inch latex paintbrush. Allow the primer to dry for three hours.
Wash the brush with plain water.
Pour the epoxy resin into the 2-gallon painter's pot. Stir in the catalyst using a wooden stir stick. Stir for at least five minutes.
Apply the epoxy paint to the primed outdoor statue using a 3- to 4-inch latex paintbrush.