Things You'll Need
Paper (optional: Christmas-themed stationery)

Pen

2 Letter-size envelopes

1 Large envelope

Postage
Writing a letter to Santa Claus is a time-old Christmas tradition for children. Receiving a letter back from jolly ol' St. Nick reinforces the magic of the season, especially for kids whose belief may be fading. Make kids true believers by having a letter from Santa delivered that is officially postmarked from the North Pole.
Step 1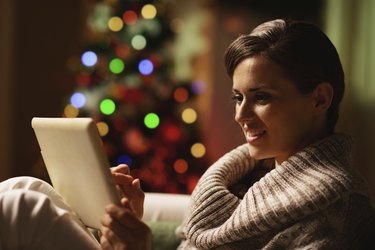 Order a Santa letter online. If you're pressed for time and/or don't want to risk having your child recognize Santa's handwriting as your own, one option is using Santa Mail, which can send personalized Santa letters to your child with the official postmark from the North Pole. They also offer certificates to award your child for making it onto Santa's "Good List," in addition to other fun Santa-themed products that you can customize. They also guarantee delivery before Christmas and give customers a 100% money-back guarantee. For less than ten dollars, this may be the most convenient option during the busy holiday season.
Step 2
Have your children write a letter to Santa. This is a great opportunity to teach them the basics of letter writing, including the salutation, body and signature. Encourage children to share their wish list as well as some non-material requests, such as helping someone who is sick or bringing good cheer and happiness to friends and relatives. Kids can also tell Santa about how well they've behaved throughout the year. They can ask questions about the North Pole, Mrs. Claus, the elves and reindeer as well. This will allow your return letter to be more personalized and convincing. Children can mail the letter in a sealed envelope addressed to Santa Claus, North Pole, or drop it in a special letterbox at stores who offer them during the holiday season.
Step 3
Write a return letter to your child from Santa. When alone, read your child's letter and write a response. Use Christmas-themed stationery to add a festive touch. Be sure to disguise your handwriting or enlist someone else to write the letter for you. (You can also type it and print it out.) Answer any questions they asked in their letter and personalize Santa's response by including the following:
Hometown ("Can't wait to fly into __ to drop off your Christmas surprise!")
Good Behavior or Notable Accomplishments
Details from the North Pole (Mrs. Claus, elves, reindeer, etc.)
Child's Best Friend (perfect for a P.S. message – "In case I don't have time to write every boy and girl, please tell __ I'll be stopping by with presents too.")
You can also add any requests from Santa, such as getting to bed early on Christmas Eve, or requesting a favorite type of cookie be left out for him. Don't forget to sign the letter from Santa Claus.
Step 4
Get the letter postmarked from the North Pole. The United States Postal Service offers the Letters from Santa program. You'll need two envelopes, one that can fit inside the other. Place the letter you wrote into the smaller envelope, addressed to your child, with a return address from Santa Claus, North Pole. Affix the required postage to the envelope for it to be mailed back to you and seal it. Insert the smaller envelope into the larger envelope. Put the appropriate postage on the larger envelope and mail it to:
North Pole Postmark Postmaster
Step 5
Wait for the letter from Santa to be returned in the mail. As long as the Postmaster in Anchorage receives your letter by December 15, your child will receive his or her letter before Christmas. When it comes in the mail, have your camera ready to capture the magical moment when your child realizes the letter is really from the North Pole.
Tip
Mail your letter to the Postmaster in Anchorage early. It must be received no later than December 15 to be returned in time for Christmas.