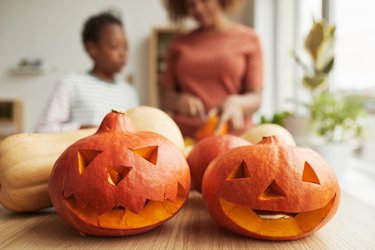 Things You'll Need
Black paper

Black trash bags

Tape

Steamer

Strobe light

Stereo

Scary sounds CD

Decorative Halloween props

Fishing line
Halloween is celebrated every year on October 31st. Kids dress up in costumes and go door to door collecting candy. Schools get into the spirit by playing Halloween games, doing Halloween activities and throwing Halloween parties and carnivals. Students enjoy decorating , too, so enlist their help for creating their classroom haunted house for your event, too. If you want to decorate your classroom to look like a haunted house, then be prepared to put a lot of materials and time into the process. Whether you are decorating for fun or as part of a fall festival event, a haunted house classroom is sure to draw attention.
Cover the walls with black paper or black trash bags. Use tape or sticky putty to attach the black material to the classroom walls. You want the classroom to be as dark as possible in order to emulate a haunted house. Cover the ceiling as well if you have enough material for your DIY haunted house walls.
Create the Scary Pathways
Move furniture and desks around so your create a walkway people must follow in order to make it though the haunted house. You can also tape up streamers on either side of the walkway to help lead people through the classroom. Use brightly colored, neon streamers so they show up in the dark.
Produce Some Spooky Lighting and Effects
Place one or two strobe lights in the classroom. Place them in a corner or next to a wall. That will provide enough light for people to see glimpses of things in the haunted house. It also provides enough light for people to walk through the classroom haunted house without injuring themselves.
Play Creepy Music and Sound Effects
Use a stereo to play a scary music CD. The music needs to be eerie and full of moans, shrieks and cries. Turn the music up loud. This will set a scary atmosphere for the haunted house.
Scare The Kids With Props
Use Halloween decorative props to create a scary scene. Use tombstones, coffins, skeletons, witches, black cats and other props in the haunted house. Hang skeletons from the ceiling and attach fishing lines to its arms and legs. Have a volunteer student pull the fishing line to make the skeleton move as people pass.
Enhance the Ambiance With Fog
Use a fog machine in your haunted house. The fog covers the floor and makes the room appear more spooky. People will forget they are walking through a classroom.
Have student volunteers dress up and jump out to scare people. The student could be lying in a coffin or hiding behind a tombstone. The scare is what makes haunted houses so much fun.
Tip
Create a list of materials you need and ask parents and students to bring them in prior to the scheduled event if they can.
Warning
Warn parents and students that the haunted house may not be suitable for younger kids or people with certain medical conditions.