Making your own set of Lutheran prayer beads gives you an outlet to express your creativity in a spiritual manner. A set of prayer beads represent the 40 days of Lent in the Lutheran tradition and serve as an aid for prayer during the season of Lent. Create your own set of prayer beads for personal use, to give to friends and family or to sell as a fundraiser for your church community.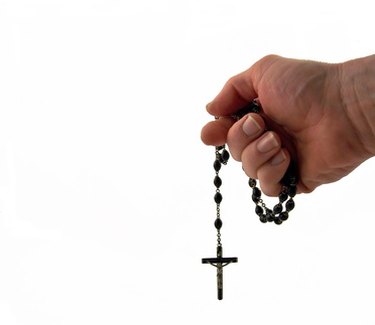 Things You'll Need
Tube Of Seed Beads

Beading Wire

2 Crimp Beads

Cross Pendant

Crimpers

44 Small Round Beads

7 Large Round Beads

Wire Cutters
Step 1
Add a crimp bead to the end of your beading wire and run the wire end through the loop on the top of your cross pendant. Pass the wire end back through the crimp bead to make a loop. Tighten the loop and crimp the bead in place.
Step 2
String four small round beads with three seed beads in between each. Make sure to cover the wire tail with your beads as you string them. After the fourth small round bead, string three more seed beads, one large round bead, three more seed beads and another large round bead.
Step 3
String three seed beads followed by six small round beads with three seed beads between each and three after the sixth small round bead. String a large round bead. Repeat this sequence four more times.
Step 4
String three seed beads and another set of six small round beads with seed beads between them. Finish with three seed beads.
Step 5
Cut the wire, leaving a six-inch tail. Starting with the second large round bead on the strand, thread the wire tail back through the remaining beads, moving toward the cross pendant. String a crimp bead onto the wire, pass the wire through the hole on the pendant and bring it back through the crimp bead. Pull the loop tight and crimp in place.
Tip
Experiment with different color combinations for your prayer beads.
Warning
Beads are a choking hazard for young children.