Things You'll Need
2 pieces fleece fabric, 2 yards each (standard width 60 to 66 inches)

Straight pins

Scissors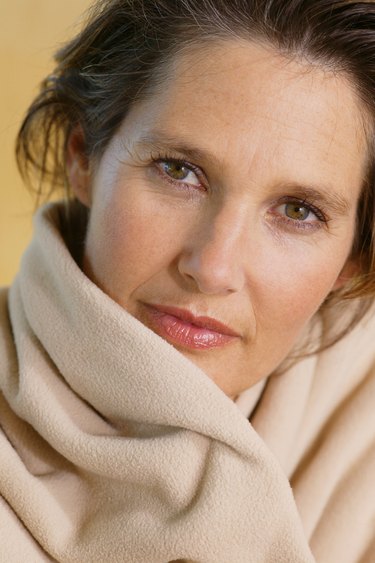 Tie blankets made from fleece material are popular for babies and children, but adults can enjoy them, too. Make an adult-size tie blanket for someone on your holiday gift list and watch them smile as they enjoy the cozy warmth of your handmade gift. Use fleece fabric in two coordinating colors to make an extra warm adult-size tie blanket for yourself or for friends and family members.
Step 1
Lay out the two pieces of coordinating fleece fabric, one on top of the other.
Step 2
Use straight pins to pin the fleece pieces together, 4 inches in from the outside edges. Place pins all around the perimeter of the two pieces of fabric.
Step 3
Cut a 4-inch square out of each corner. Make sure you cut through both layers of the fabric in order to make the squares line up.
Step 4
Cut fringe around the edges of the blanket. Each cut you make should be approximately 1/2 inch apart and 3 inches deep. Make sure you cut through both layers of fleece every time.
Step 5
Tie knots in every other fringe cut to connect the top piece of fleece to the bottom one, tying twice to make a square knot. Then turn the blanket over and tie the remaining pieces of fringe so it will be tied evenly around the edges.
Step 6
Remove the pins after you finish tying the knots.