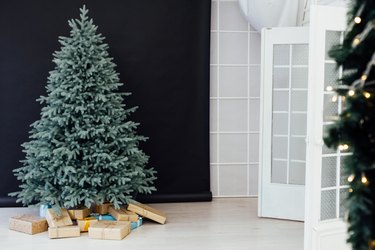 Decorating your home for the holidays with an artificial tree is a good way to enjoy a tree without the mess of falling needles or the extra work of keeping a live tree healthy. Plus, you can save money, as an artificial tree is something you can use year after year. However, at some point, your tree may wear out or you may want to upgrade, so you'll want to dispose of your fake Christmas tree. In some cases, you can send it to the local recycling center – or you can get creative and repurpose the old artificial tree.
Recycle an Artificial Christmas Tree
Whether or not you can recycle your artificial Christmas tree depends on what your tree is made of and whether or not those materials are accepted at your local recycling center. Most Christmas trees are made with a metal base and support and PVC plastic.
Most recycling centers will accept metal, but can plastic Christmas trees be recycled? Not all recycling centers can process PVC, so reach out to your local recycling center to find out. If your recycling center accepts metal, but not plastic, you may be able to remove the limbs of the tree and recycle the base and center pole of the tree.
Be sure to ask if you can leave the tree on the street with your other recycling. Some centers may require you to schedule a bulk pickup for larger items like trees. The rules are the same when deciding how to dispose of a pre-lit Christmas tree, but as with all trees, be sure to remove the lights and ornaments before recycling.
Where To Donate Artificial Christmas Tree
If your local recycling center won't accept artificial trees, you still have options for getting rid of them. Consider donating the tree so that someone else can enjoy it next year. Local charities and churches may accept trees to resell. You can also contact schools, libraries and other local organizations that may accept the tree to use for their own decorations next year. Ask family and friends if they are interested in the tree.
Repurpose an Artificial Christmas Tree
When deciding how to dispose of an artificial Christmas tree, consider some creative ideas for repurposing the tree. For example, you can use the tree limbs to make a wreath or garland to enjoy over your mantle.
Other ideas include using parts of the tree to create a centerpiece for your table, candle or napkin rings, or even using them to top gifts instead of a traditional bow. These creations may take a bit of work, but it is also a fun way to get into the holiday spirit and bring a unique and personal touch to your decor.
Throwing Away an Artificial Christmas Tree
If you can't find a place to donate or recycle and you don't want to take on the task of repurposing your tree, how do you dispose of artificial Christmas trees? You can try to sell the tree if it is still in good condition or simply throw it away.
When throwing away an artificial Christmas tree, consider how large the tree is. You can likely put a smaller tree out with your regular trash, but you may need to schedule a bulk pickup for a larger tree or have a truck to haul it. Contact your local waste management company to find out what their requirements are.