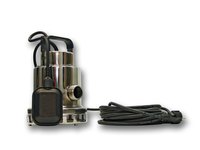 Occasionally, a sump pump will become clogged with debris, so it can no longer work. The motor of a sump pump that tries to run with a clog, or restricted flow, will burn out. Remove a clog from a sump pump screen or hose to restore full operating power to your sump pump and prevent the need to replace the sump pump.
Things You'll Need
Siphon pump or wet/dry vacuum
Screwdriver
Plumbing snake
Garden hose
Narrow nozzle with pressure setting for garden hose
Replacement band for sump pump hose
Unplug the sump pump. Turn off the power at the main breaker box if your sump pump is hard-wired into your electrical system.
Empty all of the water from the sump pump reservoir with a siphon pump or wet/dry vacuum.
Lift the sump pump out of the sump pump reservoir by the hose or handle so you can access the screen and hose. Never lift a sump pump by the power cord or float switch.
Locate the band that holds the hose to the sump pump discharge pipe. Use a screwdriver to turn the screw that is on the band to loosen the band. Remove the hose from the sump pump.
Inspect the screen at the base of the sump pump. Remove all debris surrounding the screen. Inspect the sump pump reservoir. Remove all loose debris in the reservoir.
Push the end of a plumbing snake into the sump pump outlet hose to loosen any blockages in the hose. Remove the plumbing snake.
Attach a round, narrow hose nozzle to your garden hose. Turn on the water and adjust the nozzle so the water is in a jet stream. If your sump pump hose is large enough, push the garden hose through the sump pump hose to rinse the line. Some sump pumps have a smaller hose that the garden hose will not fit through. Flush the line with water from the garden hose by holding the nozzle of the garden hose into the sump pump outlet hose. If water will not move through the sump pump outlet hose, reinsert the plumbing snake and break up more of the debris clogging the outlet hose. Repeat until water flows freely out of the sump pump outlet hose.
Slowly remove the hose. Turn off the water when the hose is almost out of the sump pump outlet hose.
Place a new hose band on the end of the end of the outlet hose and place both on the sump pump discharge pipe.
Turn the screw to tighten the outlet hose to the sump pump discharge pipe. Place the sump pump back into position in the sump reservoir. Turn the power back on to the sump pump.