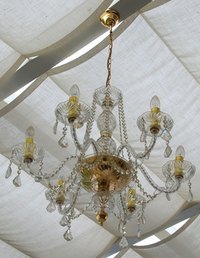 Chandeliers liven up a room like no other lighting accessory. Whether installed in a high ceiling in the living room or a little lower over a dining table, they give a room a wonderful feel. Considering how intricate a chandelier and its parts are, cleaning can be a formidable task. Dismantling it, cleaning each part and putting it back in its original form can be quite tricky. Spray cleaning is an easy alternative.
Things You'll Need
Plastic bags
Elastic bands
Comforter
Two Plastic sheets
White cotton gloves
Chandelier cleaner spray
Dry absorbent cloth
Unplug the main power to the chandelier and wait for the pieces to cool completely. Unscrew the bulbs and cover the sockets, using plastic bags and elastic bands.
Place a comforter on the floor and a plastic sheet on top of it. This will work as a cushion in case any smaller, delicate parts of the chandelier fall. The plastic sheet will catch any dirty drippings from the chandelier when it is being cleaned.
Cover half of the chandelier with the second plastic sheet; this will prevent dirt from getting on it when you are cleaning the other half. Wear the white gloves. Spray cleaner on one gloved hand and wipe each part of the chandelier with that hand. Hold the cloth in the other gloved hand and use it to wipe the part clean.
Spray the cleaner directly onto the parts if the chandelier is not very dirty. The liquid will drip down to the plastic sheet below. With this done, wipe the parts clean with a dry cloth.
Repeat the process on the other side of the chandelier. Give it an entire day to air-dry before plugging it back in.