Things You'll Need
Cardboard boxes and tubes

Large cardboard square

Pencil

Scissors

Paper

Spray paint

Paint and brushes

Craft glue

Masking tape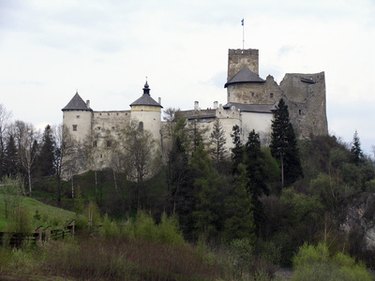 Nearly everyone has cardboard boxes and tubes lying around. Many of these same people have children who enjoy playing adventure games with toy castles. Creating such a tower from your old boxes and tubes not only recycles them creatively, but gives your child a useful and fun new toy. Your child can help you plan what the castle will look like and glue and paint the finished product.
Step 1
Paint your large square of cardboard green with spray paint. Use paint brushes to paint a wavy circle of blue in the center for a moat. This acts as the base on which your castle will sit. Make sure your moat circle has enough space in the center for your castle to sit. A circle about a foot in diameter should be plenty.
Step 2
Choose a square box about a foot square for the body of your castle. Tape the box completely closed. Draw shapes for windows, a front drawbridge and side doors. Cut them out carefully with very sharp scissors, pushing the drawbridge down flat and opening all the doors. Set the castle down so the moat surrounds it and the drawbridge spans the moat.
Step 3
Use tall, narrow boxes to represent the ramparts atop your castle. Cut rectangular notches for the crenellations into the top of each box, and cut windows and doors into the body of each. Glue these boxes to a few of the top corners of your foundation box. If you have no narrow boxes, cut and flatten larger boxes, then fold them into narrow, square tubes and tape them shut. Use a round snack can or a small, squat box in the center of the top of the foundation box to simulate more rooms. Cut doors and windows in this as well.
Step 4
Glue cardboard tubes to the top of your foundation box to create towers. Toilet paper tubes are the perfect size for short towers. Cut windows in your towers and make paper cones for their roofs.
Step 5
Remove the castle from the base and spray-paint it gray. Paint brick lines in black all over the castle and paint the roof of each tower a brick red. Glue the castle to the base and you're done.