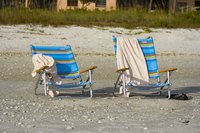 Beach chairs are lightweight and portable, providing a comfortable place for you to recline while at the beach. Most beach chairs are inexpensive, but the sea air and rough sand can create quick wear and tear on the fabric. If you have environmental concerns, you may want to repair the chair rather than discarding it right away and adding your personal landfill contribution. Replacing the fabric is easy to do.
Things You'll Need
Scissors
Ticking fabric
Fabric pencil
Fabric glue
Portable stitching unit
Cut the existing fabric off of the beach chair. Cut it along the metal tubing as carefully as you can. You will use this as a template for your new material.
Trace the old pattern on the new ticking fabric with the fabric pencil. This is the starting point, not the exact pattern.
Extend the start of the pattern out by 4 inches on each of the four sides (top, bottom, left and right). You need enough room to wrap the fabric around the chair tubing.
Fold the fabric over the metal tubing, applying fabric glue to secure it in place. Allow the fabric glue to dry. Trim the extra fabric.
Stitch the seams to add strength to the seams if you want.