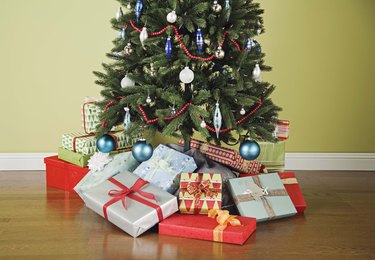 Christmas trees are a wonderful addition to the season, but getting a tree to stand up straight can be a hassle that's made even more frustrating if you're forced to cut off pieces of trunk or stuff pieces of cardboard under an unbalanced tree stand. The Swivel Straight Christmas Tree Stand allows you to easily display your tree upright no matter how lopsided it may be. The Swivel Straight stand uses a locking mechanism that is controlled by a foot pedal, and unlocking the stand to straighten your tree or remove it from the stand is a simple process.
Step 1
Pull the foot pedal all the way out. The pedal is stored inside the stand, and will not function unless it is completely extended.
Step 2
Grip the tree trunk firmly with your hands at a comfortable height. When the stand is unlocked, the receptacle that holds the tree trunk will be able to move freely in the stand, and by steadying the tree you will keep it from falling over.
Step 3
Step on the foot pedal and press down all the way. This will unlock the tree receptacle from the stand.
Step 4
Straighten the tree if needed, and release the foot pedal to lock it back into place. If you want to remove the tree completely, lift the tree receptacle out of the stand and set it on the edge of the stand. Let any remaining water drain into the stand, and then remove the tree from the receptacle.
Tip
The tree receptacle and stand can be cleaned with warm, soapy water. Avoid cleaners with chemicals, as they might damage the surface.