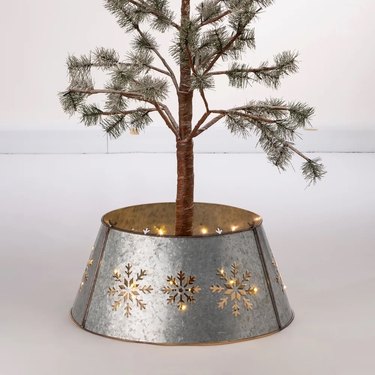 Decorating a Christmas tree can be steeped in tradition, from hanging ornaments that have been passed down for generations, to the special hot cider recipe you always sip on while untangling lights to the Mariah Carey album you sing along to. One tradition you may want to put on hold though—just for this year, or perhaps for many—is your tired Christmas tree skirt. This year, leave your tree skirt in the decorations bins and indulge in a new holiday decor trend: the Christmas tree collar.
What is a Christmas tree collar exactly? It's a sturdy base, sometimes circular and sometimes square, that wraps around the bottom of the tree. It has the same job as a skirt—to hide the tree stand—but since the tree collar doesn't have a bottom, but does have a hinge, you can easily take it on and off, allowing you to give the tree a drink of water when needed. Another bonus: Unlike a skirt, a collar stays neat and tidy, all while hiding the fallen pine needles too. Win-win.
What to Consider When Purchasing a Christmas Tree Collar
‌Material:‌ There's no right or wrong material for a Christmas tree collar, but there are right and wrong materials for your household and lifestyle. Collars can vary from wood to burlap to iron to sequined materials, any of which could be a great fit or a disaster. If you have little kiddos or four-legged friends who may put wayward sequins in their mouths or cut themselves on sharp corners, you know what to stay away from.
‌Size:‌ There's a chicken-and-egg type conundrum with Christmas tree collars sizes. Do you buy the tree that fits the collar or the collar that fits the tree? That depends. If you display the same artificial Christmas tree year after year, naturally you should buy the collar that fits your existing tree. Alternatively, if you head to the Christmas tree farm to chop down a real tree each December, you'll want to ensure your tree stand fits your collar. Pay close attention to the dimensions of a collar before buying; each product listing will give you a guide as to the size of tree it will fit.
‌How You'll Store It:‌ As charming as they are, Christmas tree collars aren't the most inconspicuous piece of decor to store all year. They can be bulky, especially compared to slim, foldable Christmas tree skirts. Before committing to one, be sure you have the space to store it the other 11 months of the year. If space is particularly tight, consider a collapsible collar.
Scroll on for nine of the best Christmas tree collars that'll add more personality to your tree—and hide wayward pine needles, too.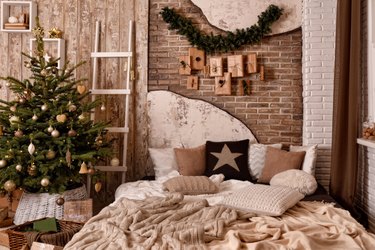 The Best Personalized Tree Collar
Personalized and Collapsible Christmas Tree Collar
Create an instant family heirloom with a personalized Christmas tree collar, like this option from Etsy. Whether you choose to adorn it with your last name or any other phrase—a simple but sincere "Merry Christmas" or "Happy holidays" would work too—is up to you. Not only can you personalize the phrase, but also the color and size. It comes in three sizes and five colors, so you can truly make it your own. Perhaps best of all, this tree collar is collapsible, making it ultra easy to store away until next December rolls around.
‌Material:‌ Wood
‌Size:‌ Three options, either 19.5", 25" or 31.5" wide
The Best Textured Tree Collar
Here's a beautiful option for a metal Christmas tree collar that'll bring a little bit of texture and a lot of glitz to your overall tree design. The hammer-hardened finish and metallic sheen will look just as fresh and modern many Christmases from now as it does this year. This collar is available in either gold or red, making it a breeze to coordinate with the rest of your Christmas decor. Now here comes the hard part: choosing which color…
‌Material:‌ Iron
‌Size:‌ 26" in diameter
The Best Light-Up Tree Collar
Merry Christmas Die Cut Metal Tree Collar
After the lights are all strung, the ornaments hung just right and your tree topper in place, your Christmas tree decorations are nearly done. The last step? A tree collar, like this galvanized "Merry Christmas" design, which adds a rustic feel to any festive living room. Best of all, it lights up with the included string lights. (The battery is included, too!) Choose between the silver or red option, then cover your tree's stand with style.
‌Material:‌ Iron
‌Size:‌ Two sizes, either 22" or 26" in diameter
The Best Budget Tree Collar
Christmas Tree Box Collar
Picture it now: a pile of Christmas gifts sitting patiently, ready to be ripped open, under a tree decked out with this glittery collar. Here's betting the base of the tree will have never looked better. Not only is this collar an eye-catching way to hide an unsightly tree stand, but it's extremely easy to assemble, too. This collar comes in one long piece, closes with velcro and, come the new year, can be folded and stored away flat. It doesn't get much easier—or sparklier.
‌Material:‌ Polyester and cardboard
‌Size:‌ 24" in diameter
The Best Rustic Tree Collar
Metal Die Cut Snowflake Tree Collar
Accent your tree's design with a little rustic flair courtesy of this iron collar. The string lights peeking through the die-cut snowflakes add warmth to the collar's cool metal feel, while the flared shape hides the not-so cute tree stand. Choose from two heights, either 22 inches or 26 inches in diameter, that'll best fit your tree, then take a step back and bask in your top-notch holiday decor.
‌Material:‌ Iron
‌Size:‌ 22" or 26" in diameter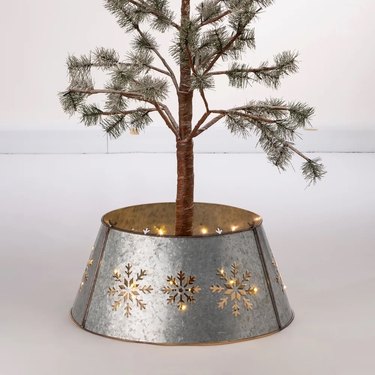 The Best Glitzy Tree Collar
Red Christmas Tree Collar
If the base of your tree could talk, it would thank you for adding this sparkling collar to its design. After you've hung the last of the Christmas ornaments, wrap this blanket-style collar, with its sturdy plastic frame and sequined cloth cover, over the tree stand. The six-piece frame snaps together easy peasy, then secures with velcro clasps. Voilà! Consider your holiday tree the most glamorous on your block.
‌Material:‌ Plastic and polyester
‌Size:‌ 30" in diameter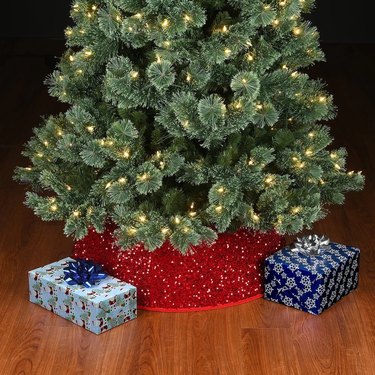 The Best Neutral Tree Collar
Beige Burlap with Rope Christmas Tree Collar
If your holiday decor veers towards the farmhouse Christmas feel, this is the tree collar for you. This burlap option hides any unattractive Christmas tree stand with its understated, neutral design. Keep a close eye on the measurements to this one though, as it only fits around tree stands with a 21-inch base or smaller.
‌Material:‌ Burlap
‌Size:‌ 22" in diameter
The Best Unconventional Tree Collar
Glittered Metal House Tree Collar
Not the traditional Christmas tree type? This holiday season brighten up your living room with this glittered tree collar with festive houses and string lights. This design doesn't wrap all the way around, and you'll still get peeks of the tree stand through the doors and windows, but you'll be so distracted by the adorable houses, we bet you won't mind.
‌Material:‌ Metal
‌Size:‌ 30" wide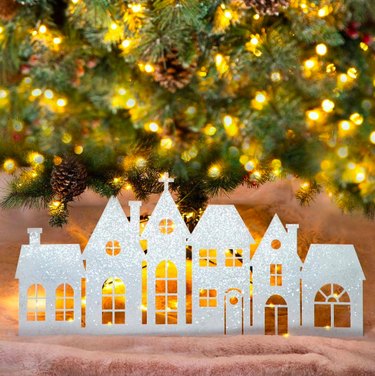 The Best Fabric Tree Collar
You've hung the Christmas ornaments and you've added holly, jolly touches to your home decor. The last step before you can sit back and enjoy another viewing of Elf? Concealing your Christmas tree stand with this red tree collar. The metal base is wrapped in striped red fabric for a soft, textured feel and accented with striping and tiny bell for a traditional touch. It'd be a timeless addition to your holiday traditions.
‌Material:‌ Fabric-wrapped metal
‌Size:‌ 22.25" in diameter