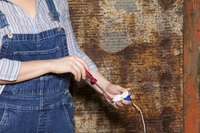 Replacing or adding additional electrical outlets will increase access to electricity in the home. Having the right equipment to determine if the outlet is "hot" with electricity or if it is off and safe to work on, will make the job easier. There are several types of electrical testers on the market, but the two more popular ones are the neon tester and the pen tester. Always be sure to follow the guidelines for your particular model tester, as they vary between manufacturers. Following a few basic steps will help you use electrical testers correctly and safely.
Turn the power on (if needed) at the main circuit panel to the outlet or switch that you will be testing. The main circuit panel is usually located in the garage or utility room.
Insert the probes of the neon tester, one into each slot of the outlet, or touch them to the brass and silver terminals of the light switch (pending project). If using the pen tester, insert the tip of the pen into one of the slots on on the outlet or touch it to one of the wires on the switch.
Look at the tester. If the lights light up on the neon, then power is flowing through the circuit to the outlet or switch. If the pen tester is being used, you will see the light in the end of the pen light up and hear a chirping noise, giving you both visual and audible confirmation that electricity is flowing through the circuit.