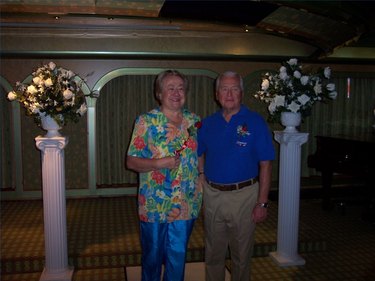 Milestones in life should be celebrated, from the births of your children to your parents' 50th wedding anniversary. While some events can be put together with a week or two of lead time, planning for a momentous event like your parents' golden anniversary should begin six months to a year or more in advance. Passports for destination parties, venues, photographers and all the elements that make for a great party require extra planning to ensure a successful event.
Origins of Anniversary Gift-Giving
While gifts commemorating the milestone anniversaries probably began much earlier than the 1800s, evidence suggests that the Victorian era spread the original German and Dutch traditions of silver and gold gifts for the 25th and 50th wedding anniversaries. In 1922, Emily Post included wedding anniversary and party etiquette, followed in the 1930s and 40s by the American National Retail Jewelers Association's creation of an anniversary gift list that emphasized jewelry, precious metals and other gifts for each year of marriage.
Planning for Your Parents' 50th Wedding Anniversary
The 50th anniversary celebration ideas for parents should include their preferences and lifestyle. Whether it's a barbecue or gala event and whether it's 500 guests or just relatives and family friends, consult with your parents before making reservations. They may have other plans that don't coincide with you and your siblings' party ideas.
Day or night; luau, potluck or catered sit-down dinner; cruise, party hall or at-home; vow renewal and/or the honeymoon they never had – all of the options must be considered before you can plan the event. Costs must also be considered. If you and your siblings have modest incomes, a decadent affair in the heart of a tourist destination may not be feasible. Still, a budget-friendly celebration can be wildly successful with proper prior planning.
Once you've settled on the budget, type of party and date, reserve the venue, caterer, photographer, videographer and disc jockey. Make a guest list and send out invitations. Remember that it's a celebration of your parents' wedding, so add traditional wedding elements. Many golden anniversary celebrations incorporate a vow renewal and the cutting of a cake.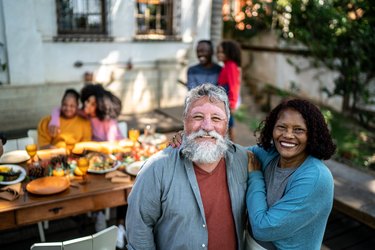 Gold is the color of the day when planning a 50th anniversary party for your parents. Use gold everywhere – gold ink on the invitations, gold runners on the buffet, metallic gold tablecloths draped over white table coverings, gold (chocolate) coins spilling from a treasure chest and more. Complement the gold theme with white plates and tablecloths, clear vases and candleholders and white candles.
While gold is the traditional 50th wedding anniversary color, yellow roses and purple violets are the traditional flowers. Add extra purple to the décor because your parents are the "royalty" being honored for their long marriage. If you've planned a garden party, gold-painted baskets holding pots of yellow mini roses and purple violets, Johnny jump-ups or African violets can serve as table decorations as well as gifts for the guests.
Gifting Ideas for Golden Anniversaries
When a couple has been together for 50 years, they probably have all the material things that they need or want. Consider other ways to show your love and appreciation. Put together photo albums or a DVD slideshow, compile a family history and/or transfer all the old 8mm and VHS videos to DVDs so they can be enjoyed.
Alternatively, plan a family vacation, reunion or cruise to commemorate their life together. Fifty years ago, your parents may not have been able to go on a honeymoon. If they agree, make it so. Surprise gifts might include a letter from the president but write or email the White House at least six weeks in advance.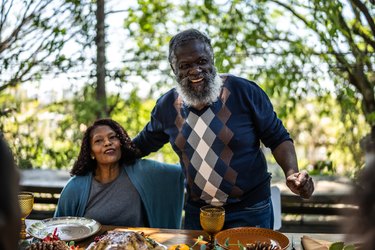 If you and your parents follow a modest lifestyle, consider a fruit of the month type of club. There are a variety of these gifts, ranging from cookies to cheese to fresh fruit to wine. They arrive monthly for up to a full year. Plants are nearly always a welcome gift for the avid gardener, while sports and music fans might prefer tickets to sporting events or concerts. Whatever you decide to do, make it a special day for your parents.