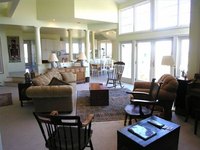 Unpleasant odors in the home can make the whole house seem both unclean and unhealthy. Households with children and/or pets often have to deal with house odors. Fortunately, getting rid of house odors is a simple and nearly effortless task with a little ingenuity. There are several very simple methods that can help revive the air quality within your home.
Things You'll Need
Onion
Baking soda
Cookie sheet
Aluminum foil
Locate the source of the odor, if possible. Remove the source of the odor from the house immediately.
Open up the doors and windows to circulate air throughout your home. Incorporating a fan may also help push unclean air out of the house.
Cut up an onion and place all of the pieces in a bowl of water. If the odor is in a particular room, place the bowl in the center of the room and close the door. If the smell is widespread throughout the house, use several bowls of onions and water and close off all of the rooms. The onions will absorb the odors.
Sprinkle baking soda all over the carpets and furniture and let it sit overnight, if possible. Sometimes, pets can inhibit this; if that's the case, leave the baking soda there for two to three hours, then vacuum it up. The baking soda will help to draw odors out of fabric and carpeting.
Line a cookie sheet with a piece of aluminum foil and sprinkle cinnamon and sugar all over it. Add a tablespoon of butter and set it in the over at 250 degrees. This will make your home smell you just baked something.