Things You'll Need
3/4 yard red felt, 36" wide

3/4 yard white felt, 36" wide

Hot glue

Scissors

Felt pen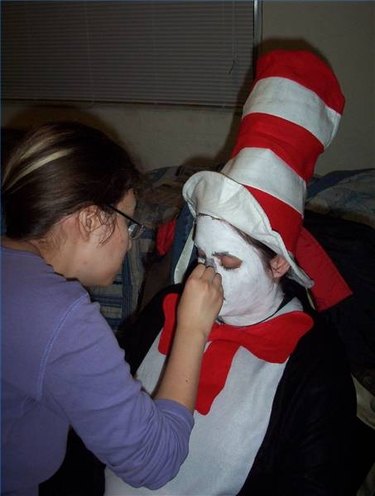 Making a top hat like the one worn by the "Cat in the Hat" from Dr. Seuss is a fun and easy craft. It would be a great project for children around Dr. Seuss Day or over the summer.
Step 1
Measure how much felt you will need for the hat by wrapping the white felt around your head. Mark off this point and then cut lengthwise down the felt.
Step 2
Hot glue the two edges of the felt together so that it makes a cylinder.
Step 3
Stand the white cylinder on the red felt. Trace a circle inside the white cylinder on the red felt. Draw a larger circle on the red felt, about two inches from the edge of the white cylinder.
Step 4
Cut out the larger circle you drew on the red felt. This will give you a circle of red felt with another circle drawn in the center of it. Cut out the smaller circle from the middle of the larger one, making a red felt doughnut shape.
Step 5
Glue this doughnut shape onto the base of the cylinder, making a brim for the hat.
Step 6
Glue the smaller red circle leftover from the doughnut shape onto the top of the hat.
Step 7
Cut red strips from the rest of the red felt and glue them around the body of the hat.
Tip
You can give the brim a wavy edge for a funky effect. Make sure all stripes are of equal length and width. Always allow glue enough time to fully dry.
Warning
Hot glue can burn the skin.