Nothing screams the '80s like a Halloween costume of an iconic pop star from the era. Make your own Cyndi Lauper Halloween costume by mixing and mismatching clothing elements that are bold or otherwise outlandish, paired with fishnet stockings or colored leggings and all sorts of colorful jewelry. A Cyndi Lauper wig, or even some orange temporary hair color and loads of hair spray, help round out the immediately recognizable look.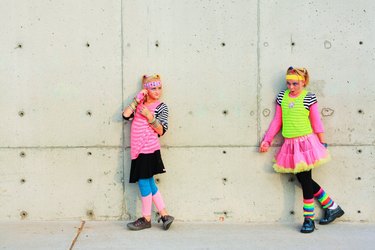 Go Through Your Closets First
Sometimes, the best Cyndi Lauper costume ideas come from digging through your own closets. There's a good chance you have at least some elements you can incorporate into the costume, and what you don't have is probably available at one of your local thrift stores. Scrounge through your closet looking for colorful or frilly dresses or skirts, perhaps from a different outfit. For a young child, look for an old tutu or princess dress that might be hanging around from another Halloween. If you don't have or don't want to wear a skirt or dress, brightly colored bike shorts or colorful pants cut into shorts will also work, as Cyndi's 1980s look is all about layering.
If you're not using a dress, find an outlandish top, such as a leopard print corset or a nearly fluorescent crop-top sweatshirt that can be torn so one shoulder hangs out when you wear it. Again, layering is key, so find mismatched elements to create a look for your upper body, layering animal prints and bright colors, for instance. The goal is to be anything but subtle. Also, look for some brightly colored high heels or some anklet-style lace up boots that look like they came straight out of the '80s. In a pinch, high-top sneakers also work; the more colorful, the better.
You'll also need some fishnet stockings or some thin pantyhose-style leggings in a bold color, or even in black or white. Tear some holes into them to give them that '80s style. Look for some colorful or frilly anklet socks, an optional touch for your costume.
Baubles, Baubles, Baubles
The '80s were a decade of excessive jewelry, and Cyndi Lauper's outfits were no exception. Look through your closets, or the thrift store's jewelry section, for cheap looking bracelets, old-school gummy bracelets, faux pearl necklaces and essentially any form of jewelry that looks cheap or tacky. Look for colorful, mismatched necklaces that normally wouldn't go together. Come up with a few finds to use as anklets; these can even be gaudy plastic necklaces that wrap around your ankle a few times.
Be sure to look for some loud dangling earrings to go with the look. Earrings that dangle from chains, ideally mismatched, are a big part of the look. If you have some earrings that dangle but aren't that interesting, make them better for the costume by adding gaudy pendants from cheap necklaces or even toy necklaces. If you can't find anything worthy of a Cyndi Lauper costume, you can always spray paint some of the earrings in bold colors. Do this outside on scrap cardboard.
No Cyndi Lauper Wig Necessary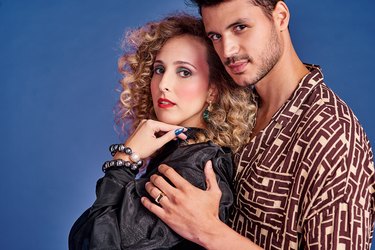 Cyndi's hair is also a big part of her look. Costume shops sell Cyndi Lauper wigs, which are essentially bright orange and designed so one side is short or almost shaved, the other long and wild. You could use a wig to easily capture the look, but if your hair is red or at least somewhat long, it's not hard to give it that Cyndi touch.
If you don't have reddish hair, use spray-on temporary red hair dye to get that bold color. Spray in another color in one area, such as bright yellow, for an added touch. Use hair gel to comb your hair slick, close to the head, on one side, as Cyndi's hair is usually shaved on one side. For the other side, tease your hair and make it as poofy and wild as possible. Use hair spray and hair gel to hold the big-hair look. Apply eye shadow in bold colors, such as blue or green, and then lip gloss in purple, bright red, or whatever makes you look totally tubular in your gnarly Cyndi Lauper costume.