Things You'll Need
Cardboard box

Scissors

Glue

Tape

Pencil

Paint (optional)

Paintbrushes (optional)

Markers (optional)

Stencils (optional)

Stickers (optional)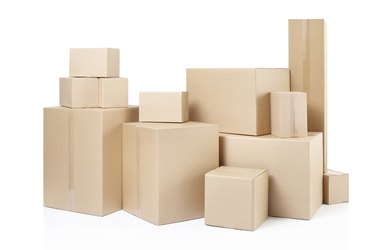 Cardboard mailboxes are a great way to recycle and provide props for imaginative play – or even decorations for holidays and parties. All the supplies you need are probably already in the house, and any box can be used depending on the size of mailbox you want. Kids can use paint, markers or even glitter to turn their personal mailbox into something that stands out as being uniquely theirs. An aspiring young mail carrier could even make an official-looking mailbox to practice with.
Step 1
Select the box. Use a short box for a residential style mailbox, such as a shoebox or cereal box. For a public-style mailbox use a tall box – mailing box, empty diaper box, mailing box, etc. – or cut the bottom off the mailbox and glue or tape it to another box to add height.
Step 2
Trace an arc on the top flaps of the box. If the box is rectangular, use the short sides of the box. Cut around the arch.
Step 3
Fold the remaining flaps to form a curve. Glue or tape in place. If the box flaps do not completely cover the curve cut a piece of cardboard from another box to fill the gap.
Step 4
Cut a door in the curve of the mailbox for a residential type mailbox, leaving the bottom of the door attached to the box as a hinge. For a public mailbox, cut a flap at the base of the curve to drop mail in, and a door at the base of the mailbox to remove mail.
Step 5
Paint the mailbox or color it with markers or crayons. Allow the paint to dry completely. Decorate the mailbox with additional colors, stickers or other craft supplies, if desired. Stencils can be used for adding names or other lettering to the mailbox.
Tip
Slick tape can make paint bead up, leaving streaks. Paper packaging tape may look better when painted.
Tempura paints, acrylic craft paint or even spray paint work well. Watercolor paints may not cover lettering printed on the box.
Add a flag to a residential style mailbox with cardboard or stiff paper, a craft stick and a pronged paper fastener.
For an official-looking public mailbox, download logos from the Internet and print out on plain white paper or cardstock. Carefully cut the logos or image out and glue to the mailbox after the paint dries.