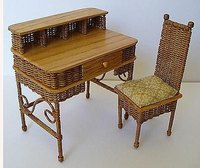 Miniature wicker furniture is both beautiful and a conversation starter. Being able to say that you constructed the furniture yourself will give you a sense of pride, as well as a potential source of income.
Things You'll Need
wicker
rattan
reed
willow
bamboo
nippers
small sharp knife (X-Acto or similar)
razor saw
bowl of water
fabric (for chair cushion)
balsa wood (for chair seat)
Choose your project.
This sounds simple, but with all of the choices of what to build, it may be the hardest part of the project.
Miniature furniture is made like full-size furniture, only to scale. Most dollhouse miniatures are scaled at a 1:12 size. Because of this, it is possible to use plans for regular sized furniture and reduce the scale to 1/12 size.
Buy the wicker, willow, rattan and bamboo that you will need for the project.
Soften the wicker in warm water for about 1 hour until the wicker is bendable without cracking. Once the wicker is softened, take the pattern for the wicker furniture, and begin the weaving process. Use caution, as the wicker may split if the bends are too tight. Ensure that all ends are cut to the proper length.
Let the wicker dry for 24 hours, allowing all the water to evaporate. If a natural look is desired, do not stain the wicker. Use the fabric to create a cushion for a finished look.