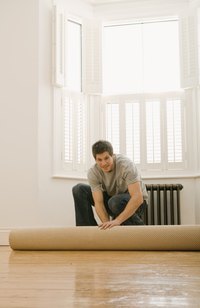 Carpet rolls generally come in 12-foot widths, but not every room is 12 feet wide. Large or awkwardly shaped rooms require the installation of more than one section of carpet to cover the entire floor. A carpet installer makes a seam by determining the least noticeable location, placing the pieces of carpet, and binding the seam where the carpet meets. Done properly, a seam nearly disappears and lasts the lifetime of the carpet.
Things You'll Need
Carpet seam iron
Seam sealer
Seaming tape
Plug a carpet seam iron into an electrical outlet. Set it to the heat setting recommended for your seam tape and carpet type.
Line up the two edges of carpet pieces so they meet but do not overlap. Place a seam sealer on the edges according to the directions for your particular seam sealer.
Cut a length of seaming tape the same length as your carpet seam. Place the strip of seaming tape underneath the carpet seam, centering the tape under the opening of the seam with the glue side facing up.
Place the seam iron between the two pieces of carpet, directly touching the seam tape. Move the seam iron at a consistent, slow speed along the seam tape to melt the glue until you have traversed a three- to four-foot section.
Place a seam weight on top of the carpet. Slide the weight slowly along the seam to firmly attach the carpet to the glue until you reach the end of the section.
Place the seam iron between the two pieces of carpet. Move the seam iron, melting the glue, until another three- to four-foot section is heated. Slide the seam weight along the seam. Repeat the iron and weight process until you have glued the entire seam.
Use a knee kicker to bring the carpet together if the carpet pieces are not touching in certain locations.