Things You'll Need
Computer with word processing or project creator program

Printer

Colorful card stock ( 8 ½ x 11; 40 lb.)

Scissors

Hole punch

Stapler

Basket

Ribbon

Ties and bows (optional)

Gift wrap

Tissue paper or packing grass (shredded paper, plastic or straw)

One large clear or colored cellophane wrapping sheet

One or two gift cards or certificates

Framed photograph of yourself, or both of you together

Pen or pencil

Notepaper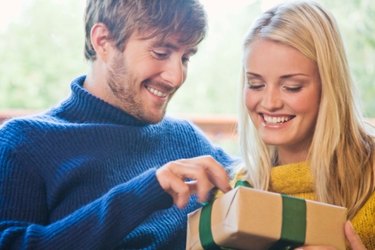 It's your boyfriend's birthday, and you're trying to think of how you can surprise him without repeating a version of the year before. Or it's his first birthday since you've become boyfriend and girlfriend and you really want to make a grand impression. This year, give him something he has probably never gotten before -- a boyfriend gift basket! Before you click off this article, you should know this is no ordinary gift basket. This is a homemade, customized, especially for him, "everything he could ever ask for" basket.
Coupon Booklet
Step 1
Make a list of things and activities your boyfriend enjoys most. This could include food items, sports teams, movies or leisure time activities. Include on your list things he enjoys doing with you, and things he would prefer to do alone, such as a boys' night out. Also incorporate into your list things you can do for him, such as a massage or preparing his favorite meal.
Step 2
Use your list to design coupons. Write out on notepaper what each coupon will say. For example, one coupon might read, "This coupon entitles you to one massage on any night of your choosing. Must present coupon at least one hour in advance to allow for preparation. Redeemable one time only. No expiration." Your possibilities are limitless, so be creative. Another example might be "Movie Night Veto. This coupon entitles you to veto any 'chick-flick' for a movie of your choosing. Redeemable one time only. No expiration."
Step 3
Use a word processor or project creator (an option available in most word processor applications) to create the "Boyfriend Coupon Book." You can choose from existing designs (templates) or design your own, with custom borders and fonts. Generally, two to three coupons will fit on a page; don't forget to include a front cover for the booklet.
Step 4
Print out coupons on assorted colors of card stock, available at any office supply store. Use scissors to cut them to size. Arrange them in a stack. Depending on the thickness of the booklet, either staple it together or use a hole punch to punch two holes into each page, and tie it together using ribbon.
Shopping
Step 1
Pick one or two of his favorite places to eat or shop and purchase gift cards or certificates. A good example might be a gift card for a haircut at his favorite salon or barbershop. Advance movie tickets are also an option. If he likes golf or bowling, think about purchasing course time or free games. Think outside the box.
Step 2
Purchase small or travel-sized items of his favorite personal care products and intimates. This could include aftershave, cologne, or razors. Massage oils and body lotions add a zesty touch. You may choose to wrap each item individually, or leave them unwrapped for presentation in the basket.
Step 3
Buy something for yourself to include in the gift basket – something you know he would love for you to use or wear, but would probably never think of getting for you. A sexy nightie, or maybe a new fragrance or lotion to be use for a special night together.
Basket
Step 1
Layer the basket with tissue paper or packing grass. If using tissue paper, use enough to make a soft but stable cushion for displaying gift items.
Step 2
Arrange items in the basket, using the framed photograph as the centerpiece. Layer items so they are distinguishable and are not completely hiding or blocking other items. This is where you let out your artistic side. If your basket has a handle, you may choose to wrap a fancy ribbon around it, or add decorative ties or bows.
Step 3
Center the basket on top of the large clear or colored cellophane sheet. Pull the sheet up and around the basket, gathering the ends at the top, and tie with a colorful ribbon.
Tip
A unique way of presenting him with his basket might be to send him on a treasure hunt to find it. Make a list of clues to lead him to the secret hiding spot.