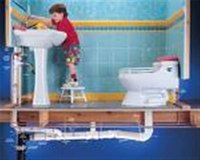 Whether you're adding a bathroom to an existing home or designing new construction, running the plumbing is not as difficult as you may think. The right tools and a little know-how will go a long way to helping you create the right space for you and your family. Designing your new bathroom may be the most difficult part of this project. Once you decide how your new space should look, running the plumbing will be a simple process.
Things You'll Need
Permits and Building Code Specifications
PVC Pipe
PVC Fittings/Connectors
PVC Saw
Plumbers Primer
PVC Cement
Jigsaw
Toilet Flange
Drain Pipe
Tape Measure
Pen
Safety Glasses
Gloves
Respiratory Mask
Design the layout for your bathroom and obtain any necessary building code specifications and permits.
Determine the size of pipe used for your water supply, usually from 1" to 1½ " in diameter and for your drain system, which is typically from 1¼" to 4" in diameter. The PVC and drainpipe you use should match the existing pipe in your home. Also try and determine what types of fittings and connectors you will need. A little forethought will save trips to the hardware store.
Measure the distance from the sink stub-in to the placement of your sink. Cut a length of the appropriate PVC pipe to fit and determine if any connectors are necessary. Connect the pipe to the stub-in by first applying PVC primer around the outside of the stub-in pipe and around the inside of the piece to be joined. Apply the cement over the primer and quickly join the pieces using a slight twist. Hold in place for about 30 seconds.
Follow the same guidelines for running the water supply to the shower/tub and to the toilet. Measure, cut the pipe to fit, attach using the connectors, primer and cement.
Mark the placement of the toilet and position the toilet flange by cutting a hole for it through the sub floor with a jigsaw. Center it 12 inches out from the finished wall. Anchor the flange using screws at the finished floor height.
Dry-fit the drain line to determine the fittings and pipe lengths for both the sink and shower/tub. Once your placement is correct, disassemble it and connect it using the PVC primer and cement. Drainpipes should be sloped a quarter inch and supported every 32 inches.
Run the drainpipes to the tub and the sink using the PVC pipe and methods described earlier. You are now ready to install your fixtures.