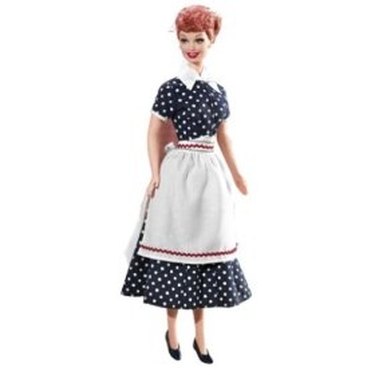 "I Love Lucy" was a popular sitcom in the early days of television that centered on a married couple, Lucy and Ricky Ricardo. It's star, Lucille Ball, was widely hailed as a genius whose gift for physical comedy is admired to this day. Her wide fan base means an "I Love Lucy" costume would be an instant hit at any adult Halloween or 1950's theme party. Moreover, fans might be surprised just how easy it is to create a costume based on one of Lucy's outfits from the show.
Step 1
Get a bright, red wig that is full of curls. Lucy's gorgeous tresses were a trademark of hers. Pull it up into a bun. Lucy was gorgeous, but she didn't flaunt her fabulous features. Wear your hair modestly.
Step 2
Put on a petticoat or ruffled slip. This is important as you want the skirt of your dress to poof out, all 1950s style. It's a cool and important touch to the authenticity of your Lucy costume.
Step 3
Adorn yourself with a long, polka dot dress. It should be black with white dots. This should be '50s style with a flowing skirt. The collar and short sleeves should have a crisp, white trim.
Step 4
Tie an apron over the skirt portion of your dress. This can be an "I Love Lucy" apron to remind others of your character (see Resources). You could also get a regular apron that is reminiscent or vintage '50s. That would be closer to what Lucy would actually wear.
Step 5
Put on sheer pantyhose. They should be flesh in tone and not be noticed. It's a subtle part of the costume.
Step 6
Wear black high heel pumps. These should match the dress perfectly, yet be understated. The focus is your hair and the dress.
Step 7
Watch re-runs of the classic show before heading out for the evening. It will help you get into character and you can gather some zings for the night.
Tip
Ask a boyfriend, husband or friend to dress up as Ricky. This outfit is way more fun if it's part of a duo. Don't take this costume (or yourself) too seriously. Lucy was fun and carefree in spite of the complex situations she always found herself in.