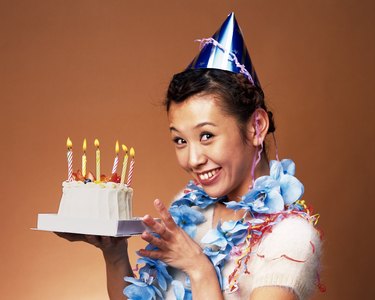 Even if you're alone for your birthday, it's possible to plan a thrilling day that you'll remember for years to come. Whether your friends have prior commitments or you're simply the type who enjoys solo outings, spend a day pampering yourself. Focus on your favorite hobby, take a dreamed-about trip or just indulge in a bit of self-reflection.
Pamper Yourself
A birthday is an ideal opportunity to enjoy a little self-indulgent pampering. Think of what you want to give to yourself -- a visit to a spa for a relaxing massage and a pedicure, followed by a stop at your favorite cupcake shop? Sleeping in late and reading a novel in the sun on your apartment balcony? Make your choice, then treat yourself with an order from your favorite takeout restaurant. If you're celebrating a milestone birthday, such as your 30th or 40th, enjoy something related to either number. For example, binge watch 30 episodes of your favorite sitcom over the weekend or make a list of 40 goals for the coming year.
Enjoy Your Hobby
Think of the hobby or activity that adds passion to your life and make it the focal point of your day. Pack up your kayak, make a picnic and enjoy time on the water, or buy a ticket for the local sports team and catch the action at the ballpark or stadium with a beer and a hot dog. Many teams list the names of those celebrating a birthday on the video board, so contact them in advance to add your name to the list. If you're an avid video game player, buy your favorite snacks and play games all day. Or, set a budget and hit the mall to buy a new pair of shoes or an outfit to celebrate -- and stop at an ice cream kiosk for a birthday treat.
Hit the Road
Solo travel can be highly rewarding. It gives you a chance to experience new settings without the distractions of being in a group. Think of a destination near or far you wish to visit and pack your suitcase. Your trip could be as simple as visiting a bed and breakfast in your state and enjoying hiking in a nearby national park, or as ambitious as booking the cruise you've always dreamed of. If you have a desire to meet new people, setting off on your own can offer the opportunity to connect with like-minded travelers.
Look Inward
Your birthday is an ideal time to reflect on your life and make goals for the year ahead, and being alone affords you the time to be introspective without interruption. Think of how you want to move forward in the next 12 months, and envision how you want your life to look on your next birthday. If you're unhappy about being alone, use the opportunity to make a plan for avoiding this feeling next year. Pledge to engage in more social events to meet new people, or, if you have trouble forming or maintaining relationships, pledge to schedule time with a therapist.