Things You'll Need
Angel decorations

String lights

Tags or paper angels

Tree topper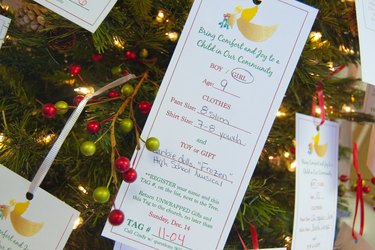 Set up an angel tree to collect presents for children who otherwise would go without Christmas gifts. The tree can be fake or real but should have plenty of branches for hanging the children's "wish" angels.
Step 1
Start with a regular Christmas tree. Make sure your tree is tall, plump and attractive.
Step 2
Add white lights and angel ornaments to the tree. Decorate it with Christmas colors or keep it angelic white.
Step 3
Hang wish lists on the tree with items children want. Include the sex, age and wish but not the name of any child. Encourage people to take a list, buy the gift and put the present under the tree.
Step 4
Place wrapped gifts for charity under the angel tree.
Step 5
Top the tree with a beautiful angel topper or a shiny star. Pick a tree topper that lights up so your tree shines from a distance.
Step 6
Place the tree in a frequented location so people see it. Collect donations before Christmas and give them to a local charity that helps children.