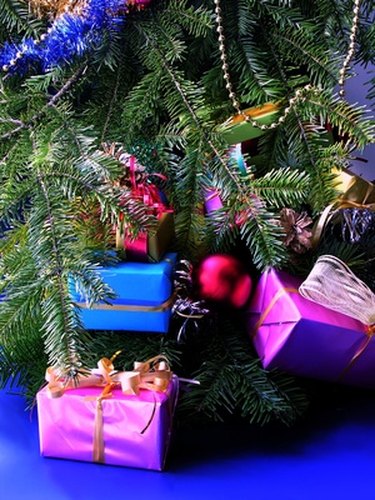 In every community there are families in need of extra help at Christmas. From low-income families who can't afford gifts for their children to homeless families living in shelters, there are many opportunities to give to others at Christmas. To locate a family in need, identify nonprofit organizations whose missions you support and contact them. These organizations can tell you what items they specifically need to support their clients through the holidays.
Shelters
Both domestic violence safe houses and homeless shelters are a good place to begin a search for a family to donate to at Christmas. Mothers and their children stay at safe houses when fleeing domestic violence. These families often have little more than a few items of clothing. An organization serving victims of domestic violence can provide you with a list of the mother and children's ages and items they need. You can also donate a holiday meal to the safe house. A homeless shelter can provide you with items needed to support their clients during the cold winter months. Many homeless shelters also provide meals to their clients. You and your family can volunteer one day to prepare and serve meals.
Churches
Whether or not you belong to a church, churches are good places to look for families to support at Christmas. Church leaders will know of families within the church who could use a little help in making the holidays brighter. Churches may also host toy or canned food drives or a holiday meal service. Have your own children help you pick out new toys or canned food items to donate to these drives. Volunteer your entire family to help out with a meal service.
Giving Trees
Giving trees include paper ornaments that list the ages of children from needy families and the gifts they'd like to receive for Christmas. Giving trees can be found throughout communities during the holidays. Check city hall buildings, libraries, Elks and Lions clubs and other community center areas and organizations. Typically, you select a child's ornament from the tree, purchase and wrap the gifts, and return them to the organization hosting the giving tree. The organization will then make sure your gifts are delivered by Christmas.
Fire, Police and Military
Fire and police departments often host events to support needy families during the holidays. Some may support a toy drop. Others host Christmas dinners for low-income families. You can donate food for the meal or volunteer to help serve on the day of the event. The military also sponsors events to support families both within and outside of the military. Toys for Tots, which is sponsored by the Marines, is perhaps one of the best known military holiday events. Military family support offices might also know of needy active-duty families in need of extra help. Remember, there are also many young, single military members stationed far from home. Invite one to join your family for Christmas dinner.