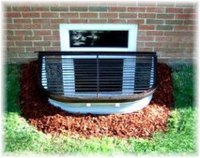 Installing egress windows can be a tricky project. However, like most home remodeling jobs, it can be done without spending the money to hire a contractor. Closely following the steps below will help you.
Things You'll Need
Concrete saw
Hammer drill
Hammer
Chisel
Concrete
Lumber for retaining wall and window frame
Level
Safety glasses
Building permit (If applicable)
Select a proper location for your egress windows. This is important, as you will be cutting holes in foundation of your house. However, you must consider whether the desired location of your windows will work for you. How your windows will look from the outside of your home, whether your location will allow for proper light, and interior and exterior obstacles will all have an infulence on where your windows will be installed. If you are unsure, consult your local lumber yard or window dealer.
Examine your home for obstacles. Scan the exterior for shrubs, electrical wires, gas and water pipes and duct work. Some of these items may be buried along your home's foundation. It is common to bury electrical wire and pipes. Thoroughly inspect your foundation. Hitting a gas, water or electric line could be disastrous. Note: Before you begin, you must ensure that you are set up administratively . Get a permit if one is needed. If you have a sketched plan, bring a copy of it to your local building department. An inspector will examine it and inform you if you need a building permit in order to do the job.
Dig your hole along your foundation. From the outside of your home, you will have to dig a hole along your exterior wall, exposing it.. Your hole should be large enough to fit your entire window unit and frame. If you are replacing a standard basement window, your hole has likely already been started, and will simply need to be widened and made deeper.
Outline where you window will go. From inside your basement, pencil sketch an outline of your window's rough opening. Cover the pencil sketch with masking tape so it is visible. This is the area in which you will cut your hole into your basement wall.
Brace your floor joists with a temporary retaining wall. Because you are altering the foundation of your house, you may run the risk of caving in your floor. This, of course, would not be a good situation, especially as you will be standing directly beneath your floor joists. A retaining wall should be built with 2x4s. A top plate should be screwed the floor joists .The wall should stand 3 to 5 feet from the rough opening sketch on your basement wall. Evenly place the studs on a bottom plate and nail them into place.
Begin cutting your hole from the inside. The first step in cutting your window's rough opening involves drilling a pilot hole. The pilot hole should be made in the center of the bottom cut-line on your sketch. Using a hammer drill, completely penetrate the wall. After your pilot hole is drilled, begin cutting out your rough opening using a concrete saw. A diamond blade is necessary. Because some basement walls are thicker than others, this should be done carefully. After you have completed the cut from the inside, go outside and repeat the same step on your outer wall until your hole is cut. You may need to chip away rough spots with a hammer and chisel.
Fill cores and holes in your rough opening and build your frame. After you have cut your rough opening, fill any cores and depressions with newspaper and concrete. You will now be ready to build your window frame, complete with your sill and header. This is the opening in which your window will fit and be fastened to your house. Your frame should be built with 2x6 or 2x8 treated boards, depending on the width of your foundation. Fasten the frame to the foundation using concrete screws. Screws should be at least 3" in length.
Seal the frame and hang your window. If you have measured properly, cut a proper hole in your wall and built a frame that follows your window's specifications. Your window unit should fit into the frame. Before you place the window in the frame, seal any gaps in the frame with polyurethane. To fit the window in the frame, center it from the outside. Depending on the size of the window, you may need to have another person help you. Be sure to shim the window so it fits snugly. When your window is flush, tack your shims to the frame. Break off any excess length from the shims. Make sure you window is level. If it is not, alter the shims.
Secure the window and affix it to the frame. After you have leveled the window, screw it to the edge of the frame through the nail fins on your window unit. After you have screwed your window onto the frame, examine it for gaps. Fill these gaps with caulk and smooth them. You window is now hung. Repeat these steps for additional windows.