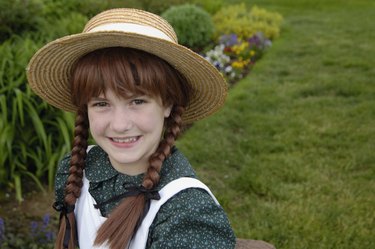 ​Anne of Green Gables​ by Lucy Maud Montgomery is one of the most beloved children's books of the 20th and 21st centuries. It was adapted for television in the 1986 TV mini series starring Megan Follows. This miniseries followed Anne Shirley from child orphan to her teens and then 20, and was resurrected in the made-for-TV series, ​Anne With an E​ (2017-2019). ​Anne of Green Gables​ is a lovable character to portray at a literary themed party, and it's easy to create your own Anne Shirley costume.
The story starts at the turn of the century with an orphan that makes the trip to Prince Edward Island to be adopted by Marilla and Matthew. When she arrives, Marilla is disappointed because she had requested a boy that is young and strong enough to help them with the family farm. Instead she received a precocious, romantic, plain girl who is starved for love.
As the story goes on, the bond between Anne and Marilla grows, as does a romance between Anne and Gilbert. Throughout the series, Anne makes blunder after blunder, creating the adorably flawed character that has resonated with multiple generations of readers and viewers.
Tip
Watch the Anne of Green Gables series, practicing mannerisms, tone of voice, and repeating famous lines.
Creating An Anne Shirley Costume
The story of ​Anne of Green Gables​ continues as the main character grows from a child into a mother herself. The first step in creating an Anne of Green Gables costume is deciding whether you want to dress up as Anne as a child, teen or young woman.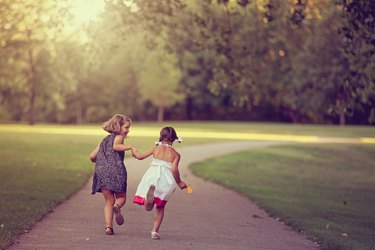 When Anne stepped off the train and arrived on Prince Edward Island, she wore a drab, tan floral dress with what is known today as a Peter Pan collar. Her blue and white apron that covers the front of her dress buttons in the back. Add white stockings with black, ankle-height, pointed toe shoes or a reasonable facsimile.
To complete the child Anne Shirley costume, color your hair temporarily red or don a wig. Braid two pigtails, and tie with ribbon. Add a distressed straw hat. Search thrift stores and vintage consignment shops for an old carpet bag.
Teenage Anne, The Adopted Daughter
Anne's attire improves as Matthew and Marilla start providing her with a nicer life. She's commonly seen in puff sleeves, high-collared button-up shirts, and ankle-length skirts, but it's hard to forget the blue puffed sleeve dress with its lace neck and cinched waist that Matthew bought her for the dance. If you're not a seamstress, you could put this together with a blouse and skirt found at vintage or antique clothing shops. With this dress, Anne wore her hair softly in a part-ponytail with a large, blue ribbon.
Tip
Vintage and antique patterns and fabrics can be used to create clothing reminiscent of the early 20th century, Edwardian Period fashions.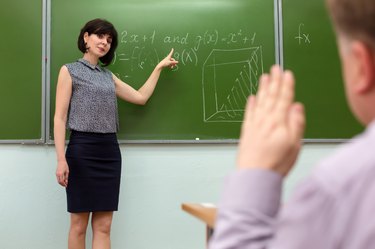 Anne adopts a more sophisticated and professional look as she grows up and becomes a teacher. The ankle-length skirts and button-up blouses are now paired with a tight vest. Her hair is pulled back into a bun with curly tendrils escaping to frame her face. A brooch is frequently fastened to the high neck of her blouse. This is an easy look to recreate with your Anne Shirley costume.