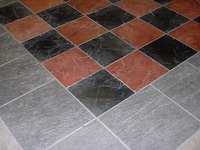 Learn how to clean tile grout with bleach. Cleaning tile grout is important for preventing the spread of germs. Bleach is great for cleaning grout. Learn how to bleach your tile grout today.
Things You'll Need
Grouted tiles
Rag that is bleach-safe
Wipe all debris and crumbs from the tiled area. You might even want to use a vacuum on the grout if there are cracks the crumbs can settle into.
Mix one part bleach with three parts warm water and pour on the tile grout to soak for 10-15 minutes. During this time, the bleach will be cleaning the grout by itself.
Rinse the bleach from your grout by wiping it with a damp cloth. Be sure to use a rag and not your best kitchen towel, because the bleach can damage the fibers of your cloth.
Practice cleaning grout daily just by spritzing the tile grout with the same diluted bleach mixture and then allowing the tiles to dry.