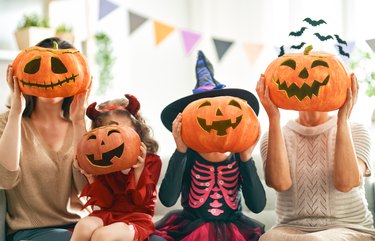 What's scarier than Halloween? How about hosting a boring sleepover? (Talk about haunting stuff!) The key to an unforgettable Halloween sleepover is a packed slate of party activities, plus some festive decor and a full menu of delicious party snacks. Whether the guests are little kids, tweens, teens or even adults, use these Halloween sleepover ideas to scare up a good time for all.
In addition to standard sleepover prep—like piling up tons of spare blankets and pillows for guests to use—there are a bunch of ways you can add Halloween vibes to your sleepover party zone.
Hang glow-in-the-dark spider webs from walls and ceilings, complete with fake spiders tucked into them.
Use Halloween-themed caution tape to block off any doorways or shelves that you don't want party guests to access.
Create a fake campfire to tell scary stories around. Use paper towel rolls and crumpled red and yellow construction paper to make a super simple faux campfire that's totally kid-safe.
Use pumpkin light garlands hung from temporary hooks and battery-operated "flickering" candles to light up the party space. Provide each guest with their own handheld flashlight for telling stories after dark or to help them find their way to the bathroom in the middle of the night. (Even kids who have their own smartphones will have fun playing with "old-fashioned" flashlights!)
Hide a few Bluetooth speakers throughout the party space to play creepy music at a low volume throughout the evening.
There's a fine line between "fun" and "traumatizing"...
Sleepovers are nerve-racking enough for some kids. Transforming your living room into a haunted house and playing frightening movies before bed might push some sensitive kids over the edge. Prevent midnight meltdowns by choosing Halloween games and activities that err on the side of "fun and silly" rather than "creepy and crawly."
Scare Up Halloween Snacks
The possibilities for sleepover-worthy Halloween treats are nearly endless. In addition to standard slumber party fare like pizza and cupcakes, serve some festive snacks. Here are just a few kid-friendly Halloween party ideas for food.
Make "bloody eyeball" ice cubes for drinks by freezing gummy eyeballs in red juice overnight.
Serve fruit salad out of small pumpkins that you've emptied out and carved.
Shape a scoop of guacamole into the shape of Frankenstein's monster, using black olives to give the monster a face and blue tortilla chips as hair.
Tint Rice Krispie Treats orange with food coloring and shape them into pumpkins with pretzel rod stems.
Plan Halloween Party Activities
Between the general excitement of a slumber party, the excitement of Halloween and some sugary snacks, guests at a Halloween sleepover probably aren't going to sleep early. Expect to fill several hours with activities before all your guests are finally ready to sleep. Kid-friendly ideas for Halloween sleepover games include:
Jack-o-lantern carving (or no-cut pumpkin decorating if kids are too young for safe pumpkin carving)
Bobbing for apples, made hygienic by giving each player their own bowl or bucket
Mummy-wrapping competition using toilet paper
Pin the spider on the spider web (or some other Halloween version of pin the tail on the donkey)
Halloween scavenger hunt to find candy, plastic spiders or other trinkets hidden around your home
Regular board games, but using candy corn and other small candies as game pieces
Trick-or-treating around your house, with a family member stationed in each room to pass out candy
For teens, an Ouija board or tabletop escape room game might be a hit, or pass out a bunch of candy to each guest and let them play Halloween candy poker for fun.
Time-saving tip: Play Halloween movie curator before guests arrive!
What's a slumber party without at least a little late-night TV? Curate a selection of Halloween viewing options ahead of the party. Go into any streaming services you subscribe to and create playlists of available Halloween programming so party guests can quickly choose things to watch. In addition to classic Halloween movies like ‌Hocus Pocus‌, ‌Casper‌ and ‌The Nightmare Before Christmas‌, add Halloween-themed episodes of your kids' favorite TV shows to the list.
Extend the Fun Into Morning
Keep the creepy vibes going when all the ghouls and goblins wake up in the morning. Make ghost pancakes using blueberries or chocolate chips as eyes and mouths, or cut toast into strips and small circles so you can arrange toast "spiders" on a bed of scrambled eggs. For a young crowd that's bound to be up and active early in the morning, plan a few low-key morning activities like Halloween-themed cartoons or some festive coloring sheets.
Finally, think about party favors for guests to take home. Candy is an obvious choice, but look for non-edible goodies that will still be fun after Halloween is over. Think cute craft supplies, $5 gift cards and temporary tattoos.