What's more frightening than a perfectly carved jack-o'-lantern? A Halloween trip to urgent care for a sliced hand. Of course, that's the worst-case scenario when you're carving pumpkins. In the best-case scenario, pumpkin carving is still going to be messy and slimy... and always harder than you think it's going to be.
So, why go to all that hassle when there are so many brilliant no-carve pumpkin decorating ideas you can try? From designing an art deco mosaic to creating a cute candy corn creature, these easy no-carve pumpkin designs are all centerpiece-ready—no slimy pumpkin guts required!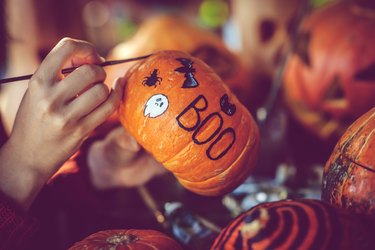 Pouring paint set, 14 colors
Even a toddler can do it, so painting pumpkins is truly foolproof. No artistic skill is required here. Paint the entire thing all over with one shade of acrylic paint, cover it with polka dots or paint on different-color spots to mimic a terrazzo effect. Or, you can use pouring paints to create rivers of paint that flow down from the top of the pumpkin. Experiment with gourds and/or mini pumpkins to try out a variety of painting techniques.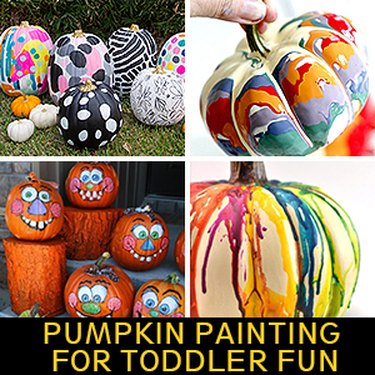 Did someone say glam Halloween pumpkins? If not, we'll be the ones to say it: glam Halloween pumpkins! A black or gold glitter pumpkin definitely fits this aesthetic. Fair warning: Glittery pumpkins are easy to make but a mess to clean up. Cover your pumpkins with a thin layer of craft glue and roll them in a foil dish filled with glitter or sprinkle black or white pumpkins with just a dusting of glitter so the base color still comes through.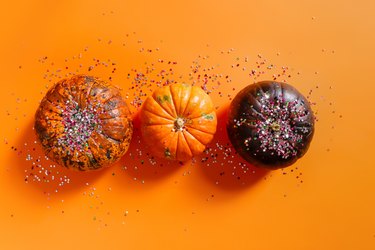 With a hot glue gun and some craft tiles, a pumpkin becomes the canvas for your one-of-a-kind mosaic art. Arrange tiles in starburst patterns, zigzags or random patterns. Let your creativity take over! Start with faux pumpkins so you can keep them for future use too.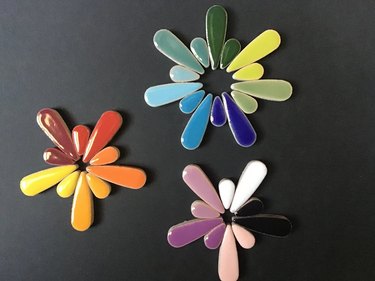 Building a pumpkin person on a breezy October day is a lot more comfortable than building a snow person in January. Plus, you don't need to live in a snowy location to participate. Remove the stems and stack two to four pumpkins on stable ground using skewers and toothpicks to hold the layers together. Decorate the top pumpkin with googly eyes and a hat or stack painted pumpkins to create an ombre effect. For example, start with a big base pumpkin painted magenta, topped with a medium pumpkin painted cotton-candy pink, topped with a small pumpkin painted baby pink.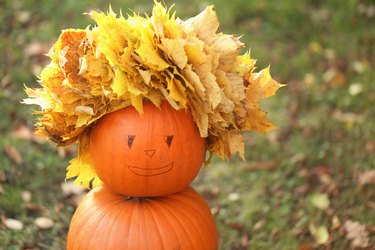 9-piece pumpkin carving kit
Scratching away the top layer of the pumpkin to create a design is easier than carving through the flesh. Because there's something elegant about an etched pumpkin, this is one of those crafty pumpkin decorating ideas that's easier than it looks. Trace a printed template or free-hand design onto the pumpkin. Use a craft knife to cut out around the edge of the design and then use the gouging tool from a pumpkin carving set to remove the orange or green skin. Spider web pumpkins and leaf pumpkins can both be made with this technique.
Wait, What Happens to Embellished Pumpkins After Halloween?
When you decorate with real orange pumpkins, you can move them straight from your front porch to your compost pile or to your curb for pickup by your local waste disposal service. Pumpkins that have glitter, sequins, mosaic tiles and other items glued to them are harder to dispose of; these materials won't break down when the pumpkin flesh does. Check your municipality's guidelines for pumpkin disposal before putting decorated gourds out by the curb after Halloween.
6. Decoupage with Mod Podge
Remember doing decoupage crafts when you were little? Playing with glue is just as fun when you're an adult. Use Mod Podge to glue tissue paper, craft paper or fabric to the surface of faux pumpkins. Tissue paper works especially well for decoupaging. Rip it into small pieces and create overlapping layers for a stained-glass effect.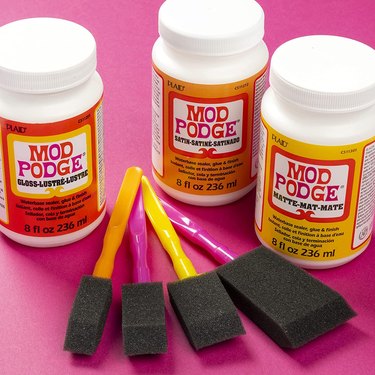 7. Marbling with nail polish
Marbling is a trendy way to decorate pumpkins and other solid objects, so there are a variety of tutorials you can watch that demonstrate different methods. One way to create a marbled effect is to spritz a bit of water with spray paint and roll the pumpkin across the surface of the water. Another method calls for drizzling multiple shades of nail polish across the water and rolling a pumpkin through it.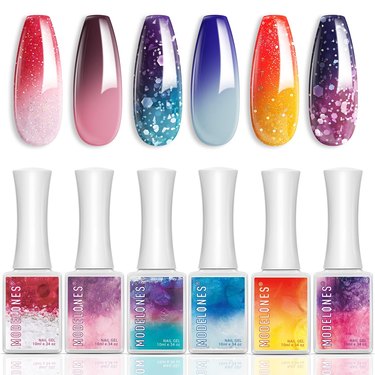 Halloween washi tape, 12 rolls
Covering pumpkins with washi tape is a safe and low-mess way to create Halloween decor, so it's a perfect way for the whole family to make Halloween crafts. Create stripes that run along the ridges of a pumpkin or cut the tape into small strips or triangles to scatter across the skin.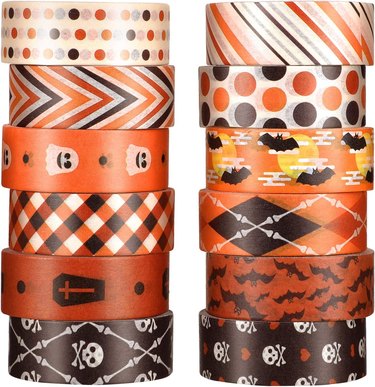 9. Make candy corn pumpkin hedgehogs
Grab a bag of candy corn the next time you're grocery shopping (or pull last year's stale candy corn out of storage) to make a no-carve pumpkin hedgehog that's spiky. Use hot glue to cover most of the pumpkin with evenly spaced candy corn, leaving an empty circle for the animal's face. Create the face with googly eyes, a Sharpie and/or craft paint.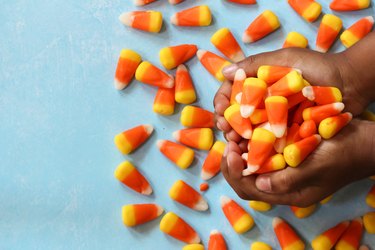 10. Cut a faux pumpkin shadow box
White artificial pumpkins, assorted sizes, 12 pieces
Cutting open a foam or plastic pumpkin with a craft knife isn't technically pumpkin carving, right? Right. Cut out one whole side of a hollow pumpkin to create the vessel for a cute and quirky Halloween display. Set up a funny scene with a little family of Halloween figurines inside or arrange mini pumpkins to look like they're spilling out. You can also cut a fun shape, like a haunted house or witch's profile, out of thin black foam board to stand up inside the pumpkin with a flameless candle set behind the shape to illuminate it.