Things You'll Need
Corset

Skirt

Thigh-high stockings

Garter belt

High heels

Satin, elbow-length gloves

Feather boa

Feathers

Makeup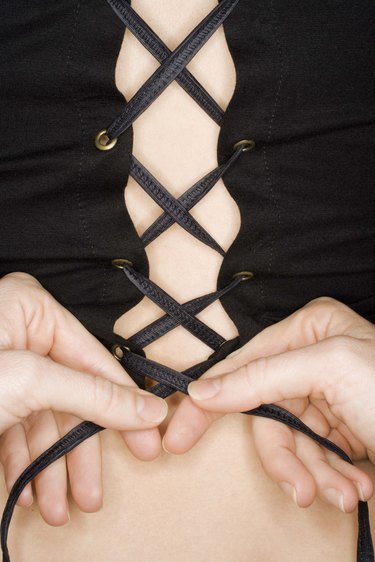 Burlesque is a form of dancing that is seen as an act of tasteful seduction. Costumes often allude to the sexy look of lingerie without revealing everything. Burlesque has seen a surge in popularity in pop culture due to movies such as "Moulin Rouge" and "Burlesque," as well as artists such as Dita von Teese who have brought the art form to the mainstream.
Step 1
Cinch a corset around your top half. Corsets are a lingerie item that provide an extra boost at the top, and make your waist look smaller. Forming the basis for most burlesque outfits, corsets come in many styles and designs; with embellishments like lace, bows and feathers; and in many colors.
Step 2
Add a skirt to the ensemble. Burlesque dancers wear many types of skirts, so pick one that you are comfortable in. Long, layered skirts such as the ones in "Moulin Rouge" are one look. Another is a short, ruffled skirt. Skirts with a bustle in the back that are short in the front are popular, or you could just choose a tight, short miniskirt.
Step 3
Pull on thigh-high stockings and a garter belt. A garter belt has clips that the stockings can be attached to so they stay up. Stockings can be see-through, fishnet, lace or just regular black stockings. Match your stockings to your corset and skirt.
Step 4
Add sexy high heels -- the higher the better, and any type of heels will work. Standard stiletto pumps work well, but if you are feeling flirty, a short pair of heeled boots or peep-toe heels would be cute, too.
Step 5
Accessorize your look by adding some opera-length satin gloves, a feather boa and some feathers in your hair. Hair should be worn down, long and sexy, or pulled into a pretty, up-swept hairstyle with the feathers sticking out of the chignon. If you choose to wear your hair down, set it on hot rollers and make loose waves to evoke burlesque artists of the past.
Step 6
Put on a face full of makeup. The burlesque look will be heavier than even your nighttime look, and will add extra touches like false eyelashes and glittery eyeshadow. Dark red lipstick, extra blush and darkened eyebrows will add to the allure of the costume.