Things You'll Need
Iron

Ironing board

Tailor's chalk

Ruler

Measuring tape

Fabric scissors

Pins

Sewing machine

Thread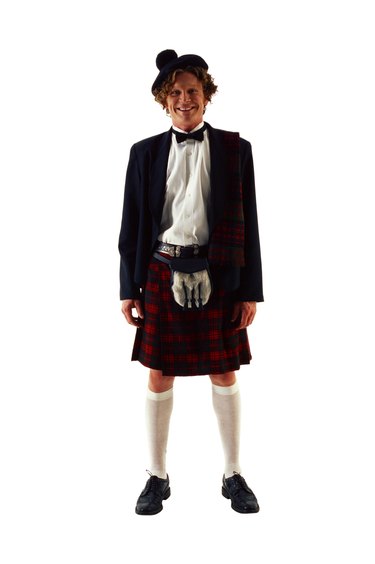 With precise folds that flow with movement, pleated school skirts and kilts offer a comfortable fit and an elegant appearance. When necessary, you can alter the length of a school skirt or kilt by hemming the bottom of the garment. While this task can be done successfully, hemming a pleated school skirt or kilt has the potential to become a difficult task due to the forced folds of the fabric. If you have a moderate amount of sewing skill and experience, you can take a pleated school skirt or kilt to new heights.
Step 1
Iron your school skirt or kilt to ensure there are no wrinkles in the garment. Wrinkles will cause your new hemline to end up crooked.
Step 2
Turn the skirt or kilt inside out and lay it on a flat work surface. Make sure the pleats are folded neatly.
Step 3
Use your ruler or measuring tape to measure from the existing hemline to where you want the new hemline and mark the spot with tailor's chalk. Continue to measure and mark along the entire hemline at regular intervals to ensure your new hemline will be straight. Connect the marks with a line using tailor's chalk and your ruler.
Step 4
Draw a vertical line from the existing hem to the new hemline in the middle of the back of your skirt or kilt with tailor's chalk.
Step 5
Cut the fabric on this line. Begin to gently unfold the pleats.
Step 6
Iron the skirt or kilt on a low setting to flatten the fabric. You still need to be able to see the indentations of the pleats. The fabric simply needs to be flat to ensure you sew the new hemline accurately.
Step 7
Fold the fabric up to the new hemline and secure it with sewing pins. Sew the new hem with a sewing machine.
Step 8
Start at one side of the skirt or kilt and begin to re-fold the pleats. As you fold each pleat, gently press it with an iron on a low setting. Continue this process around the entire skirt or kilt.
Step 9
Remove any excess threads with fabric scissors before turning the garment right side out.