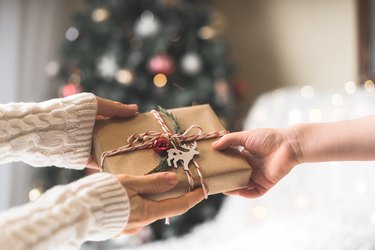 Simply put, a white elephant gift exchange, also known as a Yankee swap, is a type of Christmas event in which participants arrive with one gift and leave with another. In the traditional form of the event, the gifts are unconventional and amusing, not necessarily useful. However, the rules for a white elephant gift exchange are flexible and the concept can be adapted to fit your guests' tastes and personalities.
White Elephant Gift Exchange Rules
As part of a white elephant gift exchange, all participants are required to bring a wrapped gift that is added to a pile. Participants should then draw numbers to determine the order in which they will select new gifts. After the first person makes a selection, the second person can choose to select a new gift from the pile or "steal" the first person's gift. The process is repeated until everyone has a new gift. As a rule, a white elephant gift exchange works best with six or more participants, so keep this in mind when planning your guest list.
When it comes to any kind of gift swapping activity, it is a good idea to agree upon a price range for the gifts in advance so that everyone spends the same amount of money. You can also create a theme for the gifts to make the process of shopping for them more fun and challenging. Alternatively, Better Homes and Gardens suggests asking participants to bring old items lying around their homes rather than purchasing new gifts.
White Elephant Gift Ideas
What is a white elephant gift? Pretty much anything. Because there's no way to know who is going to end up with which item, it is best to choose gifts that are universal. The more creative and unusual the gifts are, the more fun the game will be.
If you are sticking to the traditionally silly gift theme, consider a whimsical mug – for example, a mug shaped like a toilet – or a welcome mat or set of coasters that have amusing or clever phrases on them. Books of random facts or jokes are another great white elephant gift exchange option. Other ideas include socks with weird designs and daily calendars with witty sayings. The possibilities are endless.
Hosting a White Elephant Exchange
A white elephant gift exchange is, at its core, a party. Therefore, you'll want to provide your guests with snacks and refreshments like you would at any other type of gathering. A savory buffet or a sweet spread with cake and cookies, hot cocoa and eggnog are two possibilities. You can also throw a white elephant gift exchange as a brunch party. If everyone attending your white elephant gift exchange is over the age of 21, consider serving cocktails as well.
For Christmas, you may also want to play cheerful holiday music in the background and put up humorous decorations. And, before your guests begin to arrive, remember to designate a spot for dropping off gifts. You can ask guests to place the gifts under a Christmas tree or on a table covered with a festive tablecloth. And while you are feeling silly, why not have your white elephant exchange double as an ugly sweater party?