If you're a fan of make-ahead meals, you will absolutely love slice-and-bake cookies. They're great to have on hand as holiday gifts, for a last minute get together, or to satisfy a quick sweet tooth. Slice-and-bake cookies aren't technically that different from "regular" cookies. It's really all about their method of storage, and how they're prepared before baking. Cookie dough is traditionally scooped, which yields thicker, more dome-shaped results. Slice-and-bake cookies are formed into logs and then stored in the refrigerator or freezer so that cookies can be sliced and baked as needed. Because of their log shape, the finished cookie is slightly more flat in the center. It tastes equally wonderful, and their convenience makes them a wonderful tool to have in your baking arsenal.
Things You'll Need
7 ounces (1 1/4 cup) all-purpose flour


1/2 teaspoon baking powder


1/2 teaspoon kosher salt


5 ounces (10 tablespoons) unsalted butter, room temperature


4 ounces (scant 2/3 cup) granulated sugar


4 ounces (packed 1/2 cup) light brown sugar


1 large egg


1 large egg yolk


1/4 teaspoon pure vanilla extract


1/2 cup mini chocolate chips


Stand mixer or electric mixer

Plastic wrap

Baking sheet

Parchment paper
Step 1: Gather your ingredients.
As noted above, this is a fairly standard cookie recipe. There's one important exception worth noting: you definitely want to use mini chocolate chips. Since the cookie dough will be sliced and not scooped, large chocolate chips are more likely to get stuck in the knife.
Tip
Love sprinkles? Try swapping out the chocolate chips with up to 1 cup funfetti sprinkles for a colorful party cookie.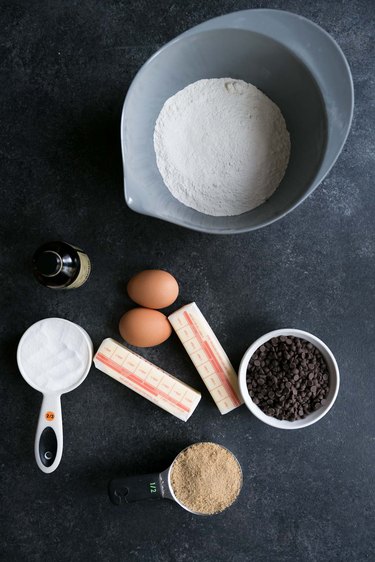 Step 2: Combine dry ingredients.
In a medium-sized bowl, whisk together the flour, baking powder, and salt.
Step 3: Cream ingredients in stand mixer.
In a stand mixer fitted with the paddle attachment (or using an electric mixer and a large bowl), cream the butter and sugars on high speed until light and fluffy, 3 to 4 minutes. Turn the speed to low and add the egg and the yolk, allowing each to incorporate completely before adding the next. Add the vanilla, then scrape down the bowl with a spatula. Add the flour mixture and pulse the mixer on low several times to incorporate the dry ingredients, then turn the mixer on low, add the chocolate chips, and mix briefly until the dough is completely combined.
Step 4: Divide and roll.
Divide the cookie dough in half. Spread evenly between two large pieces of plastic wrap. Roll each section into a tight log, tying off the ends. Place in the refrigerator for a minimum of 3 hours or overnight (or in the freezer for up to 1 month).
Step 5: Slice.
When you're ready to bake cookies, preheat the oven to 375 degrees Fahrenheit and line one or more baking sheets with parchment paper. Unwrap the dough. Using a sharp knife, slice even cookies, keeping in mind that the thicker the cookie, the softer they will be (they also will take longer to bake). Thinner cookies might spread out a bit more. Try to leave about 2 inches of space between the cookies, at least for the first batch.
Step 6: Bake and serve.
Bake for approximately 10 minutes, or until they are set but not firm. Allow to rest for at least 5 to 10 minutes before serving.