There is something undeniably magical about Halloween. The sudden chill in the air and the plethora of spooky decorations give an imaginative backdrop to costumes and candy. If you haven't already planned out how to transform your front yard for the occasion, these DIY projects are sure to help. And you can get all the supplies you need at a local crafts store, Dollar Store, Home Depot or even Amazon.
Whether you keep your front porch tastefully decorated with floral pumpkins and a scarecrow, or you go all-out and create a nightmarish scene of tombstones and walking ghosts, these outdoor Halloween decoration ideas will make your yard the neighborhood's must-see entertainment for families in Halloween costumes out trick-or-treating and guests at your next Halloween party or haunted house.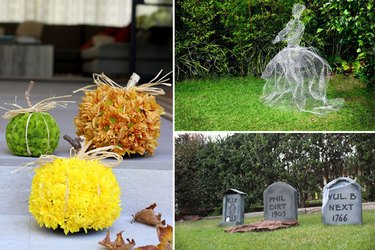 Make a Life-sized Ghost to Haunt Your Yard
It wouldn't be Halloween without ghosts, but a simple white sheet won't do. Make your yard extra spooky with these life-sized sculptural ghosts built out of chicken wire. Hauntingly beautiful, these ghosts and ghouls do double duty: They scare the trick-or-treaters by night and serve as lawn sculptures by day.
Protect Your Yard with Scarecrows
Scarecrows are a great addition to any garden or vegetable patch, but they also make fantastic DIY outdoor Halloween decorations. You can decide how welcoming yours is by dressing him up like a friendly farmer or a zombie who wishes he only had a brain.
Plant Greenery in Concrete Pumpkins
If carving jack-o'-lanterns for your spooky Halloween porch decor isn't really your thing, these concrete pumpkin planters make a great substitute. Simply pour concrete into a pumpkin candy bucket, prepare and set the mold, then let it dry. For a slightly ominous look, plant some dried or dead plants instead of living ones.
Mark Final Resting Places with Tombstones
While true death may be permanent, these realistic cardboard tombstones allow your front yard to become a temporary cemetery for those claimed by the Grim Reaper. All you need are some cardboard boxes, newspapers and spray paint to make your visitors rest in peace through the holiday.
Fence in Your Fictional Dead
A cemetery wouldn't look like a cemetery if there wasn't a fence to separate the dead from the living. Make sure you contain all of your potential zombies with a rusty cemetery fence that requires only a few tools, some PVC pipes and wood. Remember, the fence isn't there to keep you out; it's there to keep them in.
Build a Witch Hitting a Tree
Having a witch as a decoration in your yard is almost a given. Why not add a touch of humor to your Halloween yard decorations with this witch hitting a tree? Dress her in a witch hat, and don't forget the broom. Make her a cautionary tale: You can tell the kids she was texting while flying.
Creep Out the Kids with Giant Spiders
Don't just hang cobwebs this Halloween! Take your DIY ideas to the next level when you include some large black spiders made from household items. Not only will you up the creepiness factor in your bushes and trees, but these fake spiders will put all of those leftover egg cartons and toilet paper rolls to good use.
Create a Ghost Illusion That Is Sure to Scare
This impressive spectral illusion is as simple as it is awesome. Use a monitor, a large plexiglass frame and some black fabric to create this illusion in your front window, and you will be all set to scare everyone who comes to your front door.
Freak Out the Arachnophobes with a Rope Spiderweb
There is a shudder-inducing quality to spiders who build oversized webs. Tap into that fear with a simple spiderweb Halloween craft. Artfully knotted string and plenty of fake spiders will make this an easy project to complete in an afternoon, and it is sure to scare everyone all night long.
Decorate with Floral Halloween Pumpkins
For a look that isn't quite so intimidating, these gorgeous pumpkins made from fresh flowers, raffia and wooden sticks are a unique and colorful addition to your DIY Halloween decor. Choose seasonal flowers to add some color to your doorstep on Halloween night.