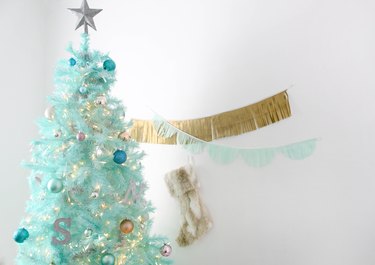 If forest green, metallic fuchsia or white flocked Christmas trees aren't doing it for you this year, have no fear. Fact is, you can have any color you want.
Using spray paint, an artificial Christmas tree and this fun tutorial, you can create a colorful, modern DIY spray paint Christmas tree that complements your home decor. It not only customizes your Christmas decorations, but is a focal point and conversation piece in your holiday decor.
Things You'll Need
Artificial pre-lit tree (preferably white)

Spray paint in the color of your choice (4 cans for a 6 1/2-foot tree)

Primer (if your spray paint doesn't come with it already in it)

Old newspapers or a drop cloth


Acetone nail polish remover (optional)
Create your spray paint Christmas tree
1. Assemble the Christmas tree
To spray paint a Christmas tree, find a well-ventilated area where you can safely spray paint. Be sure to protect the ground with old newspapers or a drop cloth. Set up your tree following the manufacturer's directions.
The artificial tree used here is a white, 6 1/2-foot tree. You don't need to use white, but it will take lighter/pastel paint colors better and may need fewer coats of paint than a darker forest green tree.
Tip
If you are not using a pre-lit Christmas tree, use icicle lights to light your tree. The strands can be easily wrapped around the tree and then you can go back in and wrap smaller icicle strands around branches.
2. Spray paint your Christmas tree
The best route to go is to choose a paint that already has primer in it, such as Rust-oleum. There are lots of options from many brands for this. If you don't, be sure to prime your tree first. For lighter colors, an initial coat of white spray paint on a dark tree may serve as a primer coat. The more dramatic the color, the more cans of spray paint you may need, particularly if you are painting a darker tree white. A small tree will require less paint.
Completely coat every visible part of your tree with your paint. Allow it to dry.
When repeating the painting process, be sure to cover any missed spots. Allow it to dry and then begin to move branches around. Lift branches up and separate any branches that may be too close together. You'll find lots of bare spots on the tree left, so be sure to fill those in with paint as well.
Tip
Lights can be painted! Yes, even the lit bulb part. However, you either may not like the look of this or you may not be able to get an even enough coating on the light to make it look quite as good as you would like.
Either cover your lights with tape or plastic straws before you begin spraying the paint, or go in with a little acetone nail polish remover on a cotton swab after it's dry to touch things up a bit. Or you can even just scratch off any excess or unwanted paint with your fingernails.
4. Dry and position the tree
Allow your tree to fully dry and then move it to its permanent home.
Decorate your tree as you generally would with your usual lights and Christmas ornaments.
Display your spray paint Christmas tree
Light up, add tree ornaments, and display your gorgeous spray paint Christmas tree! At the end of the holiday season, your DIY project tree can be dismantled and stored just like any regular artificial tree.
Spray painting an artificial Christmas tree is an easy, DIY project that can enhance your holiday decor with festive color.